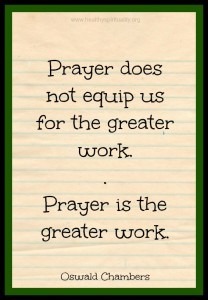 I leave for a seven day retreat on Sunday and have been prayerfully pondering my "intention" – my deepest desire for this time with God.
Christian Valters Painters in her new and wonderful book, The Soul of a Pilgrim, recommends:
"As a way of naming the grace you seek for this time, I intite you to open yourself to receive a seven word prayer to carry with you… Let this evolve over several days, sitting with whether the words that have emerged feel right for you."
Here is my seven word prayer that have formed within me for this retreat:
"Deepen within me Your life and way."
Pondering prayer and allowing its words to seep within the crevices of my soul reminded me of several of my favorite quotes about prayer and favorite prayers. I copied the following down in my journal to nourish me next week on my path into the heart of God.
God understands our prayers even when we can't find the words to say them.
Unknown
The value of persistent prayer is not that he will hear us . . . but that we will finally hear him.
William McGill
For all that has been, thanks; to all that will be, yes.
Dag Hammarskjold
Go where your best prayers take you.
Frederick Buechner
Prayer is sitting in the silence until it silences us, choosing gratitude until we are grateful, praising God until we ourselves are a constant act of praise.
Fr. Richard Rohr, OFM
Give thanks for unknown blessings already on their way.
Native American prayer
To pray is to listen, to move through my own chattering to God, to that place where I can be silent and listen to what God may have to say.
Madeleine L'Engle
The Samaritan woman at the well would never have met Jesus if she'd had a water supply at home.
It's in what we lack that we are most open to all we can become.
Why do we bombard God with our prayers for what we lack to be provided?  Perhaps we should be asking God not to supply our wants, but to dwell within them.
Margaret Silf
To pray is to take notice of the wonder, to regain a sense of the mystery that animates all beings, the divine margin in all attainments.
Prayer is our humble answer to the inconceivable surprise of living.
Abraham Joshua Heschel
God has created me to do Him some definite service.
He has committed some work to me
which He has not committed to another.
I have my mission.
I may never know it in this life,
but I shall be told it in the next.
I am a link in a chain, a bond of connection between persons.
He has not created me for naught.
I shall do good; I shall do His work.
I shall be an angel of peace, a preacher of truth in my own place,
while not intending it if I do but keep His commandments.
Therefore, I will trust Him, whatever I am, I can never be
thrown away.
If I am in sickness, my sickness may serve Him,
in perplexity, my perplexity may serve Him.
If I am in sorrow, my sorrow may serve Him.
He does nothing in vain. He knows what He is about.
He may take away my friends.
He may throw me among strangers.
He may make me feel desolate, make my spirits sink,
hide my future from me.
Still, He knows what He is about.
I do not ask to see; I do not ask to know;
I ask simply to be used.
 John Henry Newman
You hollow us out, God, so that we may carry you, and you endlessly fill us only to be emptied again. Make smooth our inward spaces and sturdy, that we may hold you with less resistance and bear you with deeper grace.
Jan Richardson
Steer the ship of my life, good Lord,
to your quiet harbor,
where I can be safe
from the storms of sin and conflict.
Show me the course I should take.
Renew in me the gift of discernment,
so that I can always see
the right direction in which I should go.
And give me the strength and the courage
to choose the right course,
even when the sea is rough and the waves are high,
knowing that through enduring hardship and danger,
in your name we shall find comfort and peace. Amen.
Basil of Caesarea
Today, O Lord –
let me put right before interest;
let me put others before self;
let me put the things of the spirit
before the things of the body;
let me put the attainment of noble ends above the enjoyment of present pleasure.
let me put principle above reputation:  let me put Thee above all else.
Give me a heart like Jesus Christ today ~~ a brave heart, a true heart, a tender heart, a heart with a great room in it, a heart fixed on Thyself; for his name's sake.  Amen
 John Baillee
Dear God,
I am so afraid to open my clenched fists!
Who will I be when I have nothing left to hold on to?
Who will I be when I stand before you with empty hands?
Please help me to gradually open my hands
and to discover that I am not what I own,
but what you want to give me.
And what you want to give me is love,
unconditional, everlasting love.
 Henri Nouwen
May you be blessed forever, Lord, for not abandoning me when I abandoned you.
May you be blessed forever, Lord, for offering your hand of love in my darkest, most lonely moment.
May you be blessed forever, Lord, for loving me more than I love myself.
May you be blessed forever, Lord, for continuing to pour your blessings upon me, even though I respond so poorly.
May you be blessed forever, Lord, for drawing out the goodness in all people, even including me.
May you be blessed forever, Lord, for repaying our sin with your love.
May you be blessed forever, Lord, for being constant and unchanging, amidst all the changes of the world.
May you be blessed forever, Lord, for your countless blessings on me and on all your creatures.
Teresa of Avila 
Please share a favorite prayer of yours or quote about prayer.