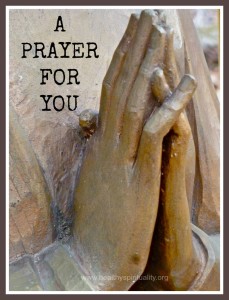 The following verses serve as the basis for prayer and one I offer up to you today with gratitude and love:
That's why, when I heard of the solid trust you have in the Master Jesus and your outpouring of love to all the followers of Jesus, I couldn't stop thanking God for you—every time I prayed, I'd think of you and give thanks.
But I do more than thank.
I ask—ask the God of our Master, Jesus Christ, the God of glory—to make you intelligent and discerning in knowing him personally,
your eyes focused and clear,
so that you can see exactly what it is he is calling you to do,
grasp the immensity of this glorious way of life he has for his followers,
oh, the utter extravagance of his work in us who trust him
—endless energy, boundless strength!
Ephesians 1:15-19 (The Message)
May the God of our Master, the God of glory embrace you with his wisdom and guidance so you can grow deeper within his love and his ways.
May your eyes see clearly and precisely where he is calling you.
May your spirit rest in knowing how immensely he loves you unconditionally, oh loved child of God.
Praying today for each of you!