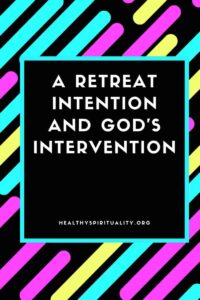 Intention means what one plans to do or is aiming for in a particular situation.
Every retreat I have been on the last few years, the leader has asked us what are our retreat intentions and deepest desires for our time with God.
I attended a silent retreat two weeks ago and this time I knew my hunger was for clarity – clearness on my next steps in my ministry and how best to spend my time and calling. I also yearn with time to be with God, focused on the Lord, not my to do list.
And yes, I hold these intentions lightly with open palms. God's will, not my agenda.
God always surprises me – with so blessings.
I wrote the following in my journal towards the end of the retreat and simply share this today with you:
I asked for clarity; God brought me stillness.
I asked to be filled; God helped me empty.
I asked what should I do; God invited me to be.
I asked How can I love you more; God ask me to open, receive, and know His love.
I asked for more time in the exquisite chapel; God reminded me of the beauty found in my own backyard garden.
I asked for answers; God gifted me with curiosity and questions.
I asked for wisdom; God said, "Trust me."
I asked for a deeper life; God introduced me to my sadness.
I asked what's next, God handed me the basin and the towel.
I asked for all the details, God waited for me to simply say yes.
I asked for all; God gave all.
How are you hearing God lately?