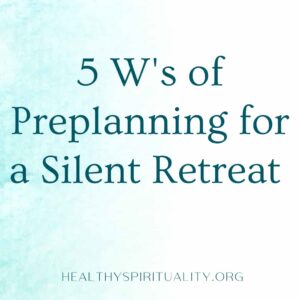 Attending a silent retreat is an opportunity to slow down and be with God. I find too often I rush into this time away dragging the world's craziness and noise with me. I am learning to pause for planning for a retreat ahead of time – even if just briefly to enter the silence with more intention and depth.
As you read this blog post today, I have just returned from a silent retreat. For more info, get the book I wrote about retreats – you can check it out in the blog's side column. I thought it may be useful to share with you 5 W's to consider before going on a retreat.
What
Where
When
Why
What to bring and what to ask
What is a Retreat?
A retreat is simply a time away with God. A break from routine. Getting out of your normal rut and finding a quiet interlude and place to slow down with God. You create space in your calendar, your surroundings, and in your heart for God.
Jesus frequently took the time for prayer with his father. Jesus models for us this powerful spiritual discipline.
One of those days Jesus went out to a mountainside to pray and spent the night praying to God. Luke 6: 12
Retreats are a refreshing oasis for our soul. A sanctuary for worship, focus, and rest.
Where
You could simply retreat with God in your living room. Or at a local hotel. Or a cabin by a lake. Maybe the family will be gone on their own weekend adventure and you use this opportunity for quiet time with God.
This type of retreat of designing your own retreat at home may be the only option for some people due to commitment, finances, and life demands. Even striving to focus on God for one hour each week enriches our faith.
I find staying at home too distracting and, to be honest, I am tempted by the routines, the to-do list, and the "maybe I can get just one load of wash done." Getting away to new places helps to break the normal habits and leads to more focused time with God with less interruptions.
Many areas now have retreat centers within driving distance. Call a local church to ask about nearby locations of a retreat center. Ask a minister, priest, or spiritual director. Ask someone you know who has talked about going on retreats. Google retreat centers. Check out: https://www.retreatfinder.com/
Home or away at a retreat center or a friend's cottage in the woods, you can find a place of peace, quiet, and space for God.
When
Carving out time in our busy schedules is challenging. At the first of every year I look at the year ahead and pencil in several times that may work for a retreat. When I read about a retreat already on the books at a retreat center, I mark that down, even if it at first looks like it won't work. Schedules change so I track all the possibilities. Then I intentionally make the commitment with family and work to attend a retreat.
Weekend retreats are very common, starting on Friday night and finishing Sunday afternoon. Some retreat centers also offer Monday through Friday time frames. Half-day or full day options also can be found.
If you find a retreat you are interested in, but the time or length just doesn't fit for some reason, call the center director and discuss if there are other options. I have been on retreats where someone arrives a bit late or leaves early. Of course, you miss the full effect, but still those people gained some benefits from their time away.
I find a three night/four-day length works well for me. This length provides enough time for me to settle in, to let go, to enjoy a walk on the grounds, to be with God. The time is long enough to experience God deeply, yet I can get back to my home, my work and my routine in a timely manner. Occasionally I have participated in an 8-day retreat and once a two week one.
Even longer retreats are available, such as a 30-day retreat. The month-long retreat is often called a 30- day Ignatius Retreat based on St. Ignatius Spiritual Exercises. This longer retreat includes times of daily prayer, reflection, and spiritual direction.
Why
The primary reason to go on a retreat is to "let your soul catch up with your body." What better reason to attend a retreat than to rest, recalibrate and become whole again in the presence of God?
Retreats create the space to be with God. To hear him in new and deeper ways. To discern a next step. We often see a new perspective of our lives, an experience, a memory when we enter into a change of place, of routine and a reduction of noise levels.
The best retreats for me are a blend of nutrition for my heart and mind. I love the combination of time to read and listen mixed with rest, reflection, and journaling.
What is your deep reason to attend this silent time being with God? What is your purpose for taking this retreat? What is your intention?
Finding the words to express what you are seeking while on retreat is helpful to add clarity and motivation for paying attention. I often put my desires in the form of a written prayer in my journal before I go. Then I surrender this intention to God as a possibility, something I would like, but tell him he is in charge. My head and heart are now open to receive whatever God wants me to have and to hold. God has never let me down and often surprised me in amazing ways.
Other intentions to consider may be discerning a next step, seeking affirmation of where you are presently, enjoying time with God in deep conversations with him and just being with God. Sometimes my biggest need is just to rest and be. Your intention can be as general or as specific as you want.
What to Bring and Ask
What do you really need while on retreat? Here are some ideas to help you pack:
The first thing to pack is your open and willing spirit. I leave behind my compulsion to know what will happen every moment and my need to control and plan. Sometimes I actually write those words on a paper and put them on my desk, leaving them there to pick up later. The physical action helps convince my mind and heart to let go.
I ask God for a receptive and amendable attitude. Open to wherever he leads and willing to listen, be vulnerable, and follow his voice. This is difficult for those of us who like to be in charge and know exactly what the next step will be. This prayer surrounds and underpins each retreat as I leave behind my expectations and pack only what I truly need.
What do I take?
Comfortable clothes.
Walking shoes.
Sweater or jacket in case the space is chilly.
If the rooms don't come with one, an alarm clock may be helpful. I know one person tells me he brings a small timer with him to help him focus for longer periods of time.
Comfort items like snacks, favorite beverages, and an extra pillow.
What about books? I always take my Bible and my journal. Sometimes if a book has been calling to me, I pack it. I know a few people bring along a classic that they have been wanting to read whenever they finally found the time.
Less is better. Slowly, I am learning to leave the books behind and trust God to provide. And he does. My journal is the one book I always take.
You will need your basic hygiene supplies. I always pack shampoo, conditioner, and my hair dryer as most retreat centers are not hotels providing all those incidentals. There usually is a small token of supplies and they readily will help you if you forget something but plan ahead what you will need.
Here are some questions to consider in preparation for the retreat:
What are the sleeping rooms like?
What essentials do I need to bring?
I have learned to ask if the rooms have fans or air conditioning.
Can I get an extra pillow?
Is there an alarm clock?
Are there shared or private bathrooms?
Ask about meals –what are the mealtimes and cost and is there a place to store/share snacks and refreshments?
Do you have any special needs to consider such as mobility or diet restrictions?
Can you walk the grounds and use the rooms throughout the facility?
If it is a silent retreat, how does that work? For example, are meals eaten in silence?
What are the costs? Are there any scholarships or work programs available to offset the cost?
Are there set worship/prayer times that you might participate in?
Is there a spiritual director available for appointments and is this an additional cost? Often this is included in the cost of the retreat.
Don't get bogged down with these details though. The most important item to have ready and bring with you is this: An open and willing heart – receptive to God.
A dose of intentional planning prepares your spirit to pause and be with God. I hope you prayerfully consider going on a retreat this year if you can. This practice will nourish your soul.
Have you attended a silent retreat? What planning tips would you give a first-timer?