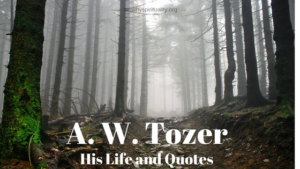 A.W. Tozer – I bet you know his name and maybe read his books, such as the Pursuit of God or The Knowledge of the Holy.  But what do you know about his man?
Here at Healthy Spirituality we explore different faith practices and learn the stories of people of faith to fuel our faith and nourish a healthy spirituality. I love learning the background of others before us who walked in faith – so much wisdom and lessons in their stories.
We discover our own story within their stories, all encompassed in God's story.
Let's meet A. W. Tozer.
A.W. Tozer – His Story
Of course, the first question is what does the A. W. stand for?
And the answer is:  Aiden Wilson.  Now you can impress your friends with that bit of info.
Here are some highlights from his life:
Lived 1897-1963.
Became a Christian at age eighteen and was ordained at age twenty-three, serving in the Alliance Church .
Wrote more than thirty books. He wrote the rough draft of the book he is best known for: The Pursuit of God in one setting as he traveled from Chicago to Texas on a train.
Lived a non-materialistic lifestyle so never owned a car, preferring bus and train travel. Even as his reputation grew as a Christian author, he gave away much of his book royalties to those in need.
Loved to preach and read and was devoted to prayer. As a man of study, he said, "You should think ten times more than you read."
It is told that at times he would board a train for a few hours, then take another train back home for the sole purpose for some uninterrupted time to read.  He loved to read the medieval mystics and the church fathers.
He walked daily and told others that God enveloped him with his presence. Jesus was a daily wonder for him and a source of amazing love and grace. God was his passion.
Buried in Akron, Ohio where he lived when we was younger and on his gravestone is the simple phrase: "A Man of God."
Quotes from A. W. Tozer
We please God most, not by frantically trying to make ourselves good, but by throwing ourselves into His arms.
******
God is never partly anything.
******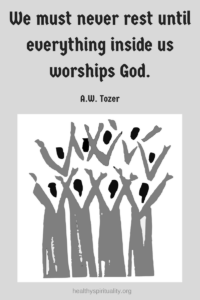 Faith is a redirecting of our sight, a getting out of the focus of our own vision and getting God into focus.
******
I want the presence of God Himself, or I don't want anything at all to do with religion… I want all that God has or I don't want any.
******
We need never shout across the spaces to an absent God. He is nearer than our own soul, closer than our most secret thoughts
God is looking for those with whom He can do the impossible– what a pity that we plan only the things that we can do by ourselves.
******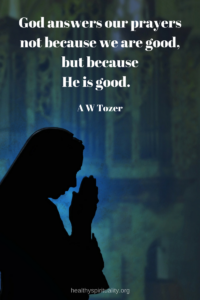 If men and women are not willing to assume a listening attitude, there will be no meeting with God in living, personal experience.
******
When I am praying the most eloquently, I am getting the least accomplished in my prayer life. But when I stop getting eloquent and give God less theology and shut up and just gaze upward and wait for God to speak to my heart He speaks with such power that I have to grab a pencil and a notebook and take notes on what God is saying to my heart.
******
Do not let the devil rob you of the unique quality God has breathed into you. He meant us to see Him and live with Him and draw our life from His smile. If you do all the talking when you pray, how will you ever hear God's answers?
******
It is possible that we can get so busy doing work 'for' the Lord that we have no time FOR the Lord.
******
Lord, teach me to listen.  The times are noisy and my ears are weary with the thousand raucous sounds which continuously assault them…let me hear You speaking to my heart.  Let me get used to the sound of Your voice, that its tones may be familiar when the sounds of the earth die away and the only sound will be the music of Your speaking voice. Amen. 
******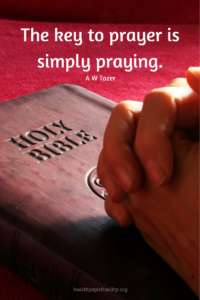 Once the seeking heart finds God in personal experience there will be no problem about loving Him.  To know Him is to love Him and to know Him better is to love Him more. 
******
God loves us for ourselves.  He values our love more than He values galaxies of newly created worlds.
******
Keep your feet on the ground, but let your heart soar as high as it will.  Refuse to be average or to surrender to the chill of your spiritual environment.
******
I have found God to be cordial and generous and in every way easy to live with. 
What have you read about or written by A. W. Tozer? Got a favorite quote?