"Let's go to Bethlehem and see this thing that has happened, which the Lord has told us about."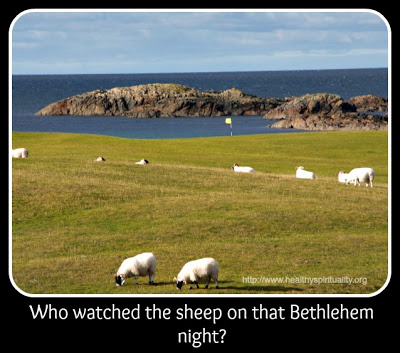 I love the enthusiastic response of these ordinary shepherds to God's announcement of the birth of the Messiah. These passages are one of my favorites for this time of year telling us about the Christmas shepherds.
But last night I wondered, "Who watched their sheep?"
Did they all take off deserting the poor creatures?
Did one abandoned shepherd draw the short straw and  got left behind doing the work of many and missing the birth of the King?
Did the angels come back and hover over them with divine protection?
Sheep are timid, feeble creatures vulnerable to missteps and attacks. They are easily panicked by loud noises and flashing lights. Duh, a whole host of angels descending suddenly on this midnight pasture with joyous singing and beaming with God's glory not only startled the shepherds, but probably induced a stampeding riot for those poor sheep.
We saw many, many sheep on our pilgrimage to Scotland and England last October. We learned that Great Britain has 36 million sheep. (I think we saw most of them too)
One of my best memories of the herd we saw occurred on a long hike to the west side of the Island of Iona. I sat for a long time on top of the
Machair
. This geographic point in Gaelic means "
raised beach
" and is fertile grassland where sheep roam freely amid another Scottish tradition, a golf course.
To my left I gazed at the Hill of the Angels. Legend tells that one day St. Columba told his brothers he was going to the Machair, but wanted no one to follow him there. But one of the brothers disobeyed and took a different route, to spy on the saint as he prayed. From his vantage point he could see Columba standing in the field, praying with his arms spread out towards heaven and his eyes gazing upwards. Suddenly angels were flying up and down with amazing speed and dressed in white robes. They gathered around Columba as he prayed. Later this hill became know as the Hill of the Angels.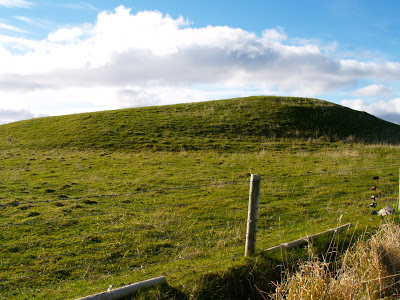 Hill of Angels on Island of Iona
I sat praying and pondering on this sacred ground. The sheep scattered for many acres around me abruptly began to move north. A small group would congregate, then more joined them. They would move several hundred feet and wait till more came. Finally all the sheep I could see stood together.
I noticed one sheep would move; the rest followed. This start and stop assembling action lasted 20-30 minutes until all gathered close to the farmyard down the hill. Then two sheep dogs appeared and a man riding an all terrain vehicle. No noise, no barking, just gently corralling them into their pen. The dogs directed the herd by steering them with quick movements, followed by lying down. Their eyes never left the shepherd, perched on his ATV, as they waited for a sign to move once again.

Shepherd herding sheep into their pen on Iona
The words "I am the good shepherd. I know my sheep and my sheep know me," broke into my heart. I smiled too as I wonder if Jesus now rides a gator to herd all of us wandering sheep!
Who watched the sheep that night?
   The shepherds left.
     The angels returned to heaven.
       That left only One to guard His precious flock that night.
Just like God never left those sheep unprotected, He is always near to us. His presence calms our fears and His love guards our souls. He is our good Shepherd.
What lessons are you learning this Advent season?