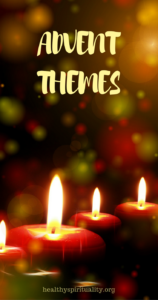 May the God of hope fill you with all joy and peace as you trust in him, so that you may overflow with hope by the power of the Holy Spirit.
Romans 15: 13 (NIV)
As the reader finished the second reading on Sunday with these words, I felt like God was presenting the message in this blessing just for me. As a spiritual director, I have learned to pay attention when words or an image vibrates within my heart and stirs my spirit.  On Sunday these words of Advent hope struck me deeply and continue to stay with me in my prayers and conversations with God.
In December on this blog, I'm exploring the various themes of Advent and what they could mean for our life now and forever.  This week's word:  HOPE!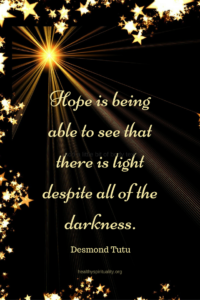 Why Advent Hope?
December here in northwest Ohio is dark and damp and dreary.  Winter is gloomy and murks my spirit. I long for the warmth and lightness of summer, not the snowy, hide by the fireplace under the crochet blanket, dusky coldness that shrouds everything.
I realized today that the shortest day of the year, December 21st, occurs before Christmas.  When we celebrate Christmas, the days will be getting longer and brighter, though just by a bit, the uptick has begun.  We may not see major differences, yet but it is coming.
This thought brings me hope.
Our world desperately needs hope. We hear of wars, bombings, devastation by fires, floods and tornadoes. We see never-ending conflicts in the photos of Aleppo, Haiti, Iraq, and Nigeria.  I know I am not the only one feeling battered and fatigued from a bruising national election.
No wonder I long for hope. No wonder we all need hope.
God of  Advent Hope
I love this verse as it starts out refocusing my eyes and heart on the God of hope.  What a wonderful name for our Lord.
God can't help oozing with hope since hope is part of his essence. He is hope. God is an immense ocean, fathomless and overflowing with hope. God's hope is excessive and beyond measure and given to us in abundance. Hope, his positive creative energy, drives us forward, seeking him, longing for him – all additional Advent themes.
The God of hope – is the source of all hope and the reason to rejoice.  He won't leave us in despair – God shares this gift of hope.
Advent calls us to hope in the promise that God is calling us to greater things and will be with us as we live them.
Hope is the recall of good in the past, on which we base our expectation of good in the future, however bad the present.
It digs in the rubble of the heart for memory of God's promise to bring good out of evil and joy out of sadness and on the basis of those memories of the past, takes new hope for the future.
Even in the face of death.
Even in the fear of loss.
Even when our own private little worlds go to dust, as sooner or later, they always do.
-Joan Chittister
Advent Hope in the Gifts of Joy and Peace
How does this God of hope bequeath us hope?  Through his gifts of joy and peace.
I find this interesting that it is in joy and peace that hope arises within us. And notice the adjective before joy and peace – ALL.  This doesn't mean occasionally or whenever he feels like it, or when I am good, or if I pray and obey…Joy and peace are gifts of the Spirit and given freely out of God's love and mercy and grace. We have these gifts right now, so also have hope.
God has not left us hopeless.
Living in his joy and peace, God is always with us even in the difficult times. He never leaves us, even in the dark times. And he loves us in all of our times.

Overflowing Advent Hope
The translation of this verse uses the word overflowing to describe the amount of hope God gives. Other versions use different words: abundant, abounding, spilling over, excess, cascading, soaking and exuberant. Don't those adjectives create a wonderful image of God freely pouring upon us his optimism, faith and courage to live?
Because Advent is about the future, we live in hope. Anticipating a better tomorrow even when we struggle with the realities of today, we keep our eyes on the God of hope.
"May you have enough happiness to make you sweet,
enough trials to make you strong,
enough sorrow to keep you human,
enough hope to make you happy."
Unknown
This week I am praying, pondering and beholding hope.  How about you? Where do you experience the hope in Advent?
I created a free Advent Resource guide. You can download it here: https://healthyspirituality.org/advent
And you may be interested in my Christmas book, Christmas Seasonings, 101 Quotes and Prayers to Flavor the Holiday.  And I would love, if you read it, to leave a review.
Thanks so much.