Advent is the four weeks preceding Christmas and is a time of waiting and preparation for the arrival of the Christ Child. More and more church traditions are celebrating this special time of year. The next four Thursdays I will be writing about Advent, a time of wait and anticipation.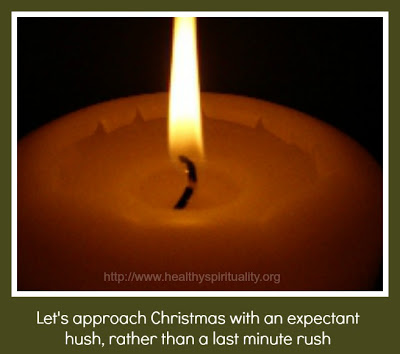 Waiting is difficult. Most of us are terrible waiters.
Waiting is a time of powerlessness where the imagination runs wild with the what if's and when will this be over.
Our inability to control the unknown generates fear and anxiety when we wait.
You have heard the statistics. In an average lifetime, we spend five years waiting in lines and six months waiting at traffic lights.
We are now waiting for the Christ Child. At least for this time of wait we do know the end date and what will be happening. Yet like kids knowing Christmas gifts are coming, we fidget and fret as time moseys through December.
We are impatient people. We fill this time with parties, to do lists, wrapping, Black Friday midnight shopping and continuous monitoring of the deal of the hour on the Internet. Crazy schedules dominate instead of stillness and peace.
This time of year offers ample opportunities to embrace waiting as a spiritual practice. Practice doesn't mean perfection, but a time to savor the lessons waiting may teach us. Waiting can be a wise teacher.
So I have been sitting at the feet of Lady Wait and praying/pondering/listening to her message. What is God inviting me to learn about waiting this Advent season? What are the gifts He is giving us right now during this time of anticipation?
1. 

Waiting illustrates hope. I like the story from Ethiopia about a shepherd boy, Alemayu.  Alemayu had to spend the night on a bitterly cold mountain. The only clothing he had was a bare thin cloth. Most of the villagers believed he couldn't live through that icy night, but to their amazement he entered the village in the morning alive and well.
"How did you live? What kept you alive," they all asked.
"It was so dark and cold," he replied. "But far off on the distant mountain, I saw a shepherd's fire. I kept my eyes only on its red glow and I dreamed about being warm. That is how I had the strength to survive."
  Advent is like a long winter night. If we keep our eyes ahead on the fire of God's love and His coming to be with us, our reality is He is already here, keeping us warm.
2. Waiting wakes us up and we pay attention. Maybe it is the lights, scents, tastes and sounds of the holidays, but my senses move into high alert. I gaze at the glow of the lights from the nearby park and smile at the giggles of my grandkids as they see our tree for the first time. I notice details, colors, textures once ignored.
Henri Nouwen writes, " The word patience comes from the Latin verb patior, which means "to suffer." Waiting patiently is suffering through the present moment, tasting it to the full, and letting the seeds that are sown in the ground on which we stand grow into strong plants. 
Waiting patiently always means paying attention to what is happening right before our eyes and seeing there the first rays of God's glorious coming."
3. Waiting clarifies.As we stroll through Advent, this gift of time helps us sift through our all of our wants to find our deepest cravings.
  David Runcorn said, "Waiting sharpens desire. In fact it helps us recognize where our real desires lie. It separates our passing enthusiasms from our true longing."
4. Waiting prepares our hearts. What a blessing to have a time to reread the stories from the Old Testament, witnessing to Jesus' coming. To think once again what Mary experienced, what the shepherds witnessed, how the angels sang. These holy words till the stiff ground of my heart so new seeds of love can sprout.
"What is uncertain is not the 'coming' of Christ but our own reception of Him, our own response to Him, our own readiness and capacity to 'go forth to meet Him.'" Thomas Merton.
Want to join me in discovering the lessons in waiting?  As we stand in lines, anticipate family and friends gathering, wash dishes after a big event, ponder the gifts we find in waiting. Look around, pay attention to the details of this season. See the peeks of hope in the horizon.
Advent is waiting but a time of active waiting that opens our hearts and lights the way to the manger.