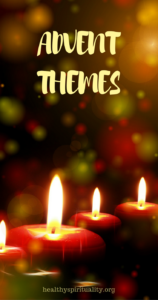 Advent is one of my favorite seasons of the year. The candles, music, words, and themes stir my spirit and refocus my heart of the true reason for the season. Exploring Advent themes brings peace and depth to my walk towards Christmas.
Advent is the four weeks before Christmas and is a season of waiting, expecting, and hoping. Advent prepares our hearts and minds for the coming, or "advent" of the Christ child at Christmas.
Advent invites us not to do more, but to pause and be and listen and refocus on what matters.
[Tweet "Advent invites us not to do more but to pause and be and listen and refocus on what matters. "]
The next few weeks on this blog, let's dive into the themes of Advent and what they could mean for our life now and forever.  This week's word:  Look!
Advent Theme – Look Up!
I told the kids during the children's moment last Sunday that God invites us to watch for him during this season. Look intently for his presence. Watch for his appearance.  Stay awake for his coming.
The shepherds looked up and saw angels announcing the birth of Christ. The Wise Men observed the star proclaiming the coming of a king.  Mary held her newborn son in her arms and pondered the face of God.
Advent tip:   On a clear night sometime between now and Christmas go outside and look up at the stars.  Behold the wonder of the vastness of the universe created by the fingers of God. Bundle up our small frames of fragile existence and know God too made every cell within us with a longing to look to be with him.  Be in the Advent moment – behold God, looking up and worship this divine designer of all life.
What gifts await us if we only open our eyes and look?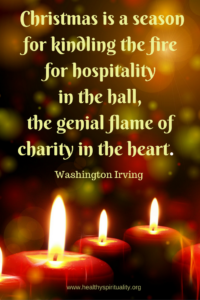 Advent Theme: Look For
Our church this year is changing the times of our Christmas eve service. We took options to the congregation to get their input.  The great majority had no problem with the time change. Their biggest concern was this:  Would we still have the candlelight service?
Like many other churches we close our Christmas Eve service by singing Silent Night and holding lit candles. We ever provide real looking battery operated candles for the young kids to hold so they can participate.
Candlelight encircles our hearts and casts a glimmer of hope and wonder to the sanctuary of our hearts. In that light filled moment we all become mystics, delighting in God's presence.
This season look at scenes in your life through the lens of candlelight. Train your eyes to seek the good. Allow yourself to melt into the captivating story of a babe born in Bethlehem.
Advent tip:  Below is a photo of my "nook."  In the dark evenings, this part of my house invites me to sit awhile in the flickering lights and glow of the candles and rest. I plan to read the Christmas story of Christ's birth here at least once this season, hearing it with the ears of my heart and through the radiance of God's love.

Where will you see God this year?
Advent Theme: Look After
The crazy Christmas season narrows our focus to our to do lists, checklists, and crammed calendars. I want to see beyond myself this year and ask myself Who do I need to look after?
I wonder about the new widower down the street – maybe invite him to supper or bring him some cookies.
Can I bring a smile to that tired, overworked store clerk?
We stood in the long winding line at Kohls on Black Friday.  I set the timer on my phone and we guesstimated how long it would take us to check out. Kohls did a great job by getting us out 15 minutes faster than we expected.
And the line was fun.  My daughter and I intentionally decided not to be grumpy, but to engage in those around us. We laughed. We talked. We connected and we still smile about that day.
Looking after someone brings light to all hearts.  Bring joy and friendliness to a situation. Offer the gift of listening. Find the good and don't get caught up in the dark negativity and gloomy whininess that traps us so easily, then spreads among us.
Advent tip: Be the person in the long line who creates joy and friendliness. Smile at others. Say something nice. Surprise a neighbor or a shut in with a visit. God shines in the small  simple things. He could have sent Jesus as a wealthy king to famous parents but he chose to do his work in the simple and plain. Our little acts of kindness may be the spark to relit someone's way back to God.
Seek the light this Advent season and learn its ways.  Light in our darkness and hope in our despair!
What lights up your soul?  What illuminates your journey?  How can you be a light?
Last week I created three videos for Facebook all about Advent. I plan to post these videos here on some of my blogs about Advent for your viewing.  I am still learning tons about recording there so don't expect fancy, perfect filming – I'm just me. If you are reading this post by email you probably will have to go to the blog to see the video.
And don't forget my annual readers survey is still open through November 30.  Thank you for so many of you already filling out your responses – your input is very important and appreciated. I would love to have more feedback so please go to the Healthy Spirituality survey (click here) today to answer a few questions.
And one more reminder: the Healthy Spirituality Gift Guide is full of ideas for some faith related gifts to give this year.  You can find the info by clicking here.