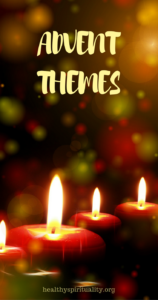 Holidays are full of expectations. I expect everything to be perfect, nice, full of joy.  I long for family members to get along and to feel loved. I want the table to look just right and the food to be yummy. I expect to see the smiles on the faces of those around me and hear the giggles and glee of my grandkids.
I long to experience the wonder and awe of that first Christmas too.  To hear the angels in all their glory singing. To kneel with the Wise Men and worship the newborn King. To cuddle the Prince of Peace in my arms and my heart as Mary did. To rest knowing Jesus has arrived and will come again.
Expectations can be both good and bad, but are part of our human nature and a relevant Advent theme to ponder.
Expectations
I read the other day that expectations were "premeditated disappointments."  When we focus on too high, unrealistic, and far long-off possibilities and dreams, our hopes are often dashed.
When I cling too tightly on how I see things and assume how others will respond is when expectations crash into pieces.  When I hold them lightly with fists unclenched, new life emerges.
It seems to me that expectations are both fragile and yet give strength to persevere.
Expectations give me courage too. They energize my faith to keep going. Even when I don't see the final destination or know exactly how things well turn out, I continue to move forward.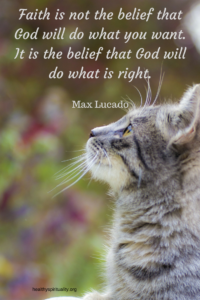 I have learned as I journey through the ups and downs of life with my ever present companion called expectations, that when I am tempted to give up, I am called then to wait and at some point, God will surprise me. God's expectations exceed my imagination.
[Tweet "God will surprise me. God's expectations exceed my imagination."]
The world never expected the Messiah to be born a child to poor unknown parents in a middle of nowhere.  But God knew what he was doing and the world hasn't' been the same since.
Advent Expectation Quotes
Here are a few quotes about expectations to fuel your ponderings and prayers. Interesting as I researched these quotes, I had a hard time finding quotes about the positive side of having expectations. Most were negative and almost angry, obviously written from a place of disappointment and hurt. Keeping our expectations on God makes all the difference in the outcome.
God is good. Everything He does is good and wonderful. Everything God gives and offers is greater than what the devil offers, so shouldn't our expectations come from God? God wants to do something outrageously wonderful in your life every moment of every day. But you have to be ready and expect it to happen.
Joyce Meyer
******
We find what we expect to find, and we receive what we ask for.
Elbert Hubbard
******
"Expectations were like fine pottery. The harder you held them, the more likely they were to crack."
― Brandon Sanderson
******
"A wonderful gift may not be wrapped as you expect."
― Jonathan Lockwood Huie
******
You must not expect anything from others. It's you, of yourself, of whom you must ask a lot. Only from oneself has one the right to ask everything and anything. This way it's up to you – your own choices – what you get from others remains a present, a gift.
Albert Schweitzer
*****
We must learn to reawaken and keep ourselves awake, not by mechanical aid, but by an infinite expectation of the dawn.
Henry David Thoreau
******
What does Advent expectations or just the word expectation mean to you?  How to you keep positive expectations this time of year or throughout the year?  Let's talk about expectations.
I created a free Advent Resource guide. You can download it here: https://healthyspirituality.org/advent
And you may be interested in my Christmas book, Christmas Seasonings, 101 Quotes and Prayers to Flavor the Holiday.  And I would love, if you read it, to leave a review.
Thanks so much.