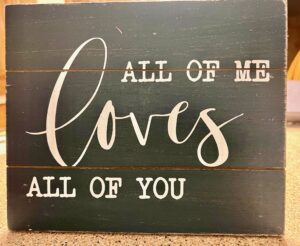 All as my word of the year continues to teach me, form me, stretch me. Who would think such a small "insignificant' word held such wisdom. This spiritual practice is a wonderful way to hear God and see his touch in our lives.
I shared earlier in the year the small plaque I found in Hobby Lobby – "All of me loves all of you" and its amazing lesson that continues to color my prayer and time with God.
All of me -could refer to me.
All of me – also refers to God speaking.
Afterall, he is the All.
I spend time soaking in this incredible message that the Creator of the Universe knows us, loves us, wants to me with us. Loves us unconditionally. His All loves our all.
This lens sharpens my vision of all others.
God whispers, "All of me love ALL of you." Not just me, but all others. God loves all of us.
Last week I sat at a meeting where one lady drove me nuts. Her gossiping. Her complaining. Her inappropriate behavior. She really got under my skin, and I couldn't wait to get home venting to my hubby how awful she was.
Then God nudged – "All of me loves all of you."
What? Come on, Lord. You love her too? I didn't want to be reminded that God loved her. That she is a child of God wildly cherished by our Creator. That knowing the truth that God loved her, what should my response be? I knew the answer before I fully asked that last question.
Sigh. Loving others is tough. Slowly my anger, frustration, irritation fades. To be honest, some residual remains but when my mind remembers that evening, I see God there too. He was there all along, but my attitude obscured the view.
All of God loves all of us. Not just me (guess the world doesn't revolve around me after all – ha)
A dimension of my word of the year reminding me – once again – of this amazing, incomprehensible, ever-forming Creator's unconditional outpouring of love for all.
How has your word of the year continued to shape you? What is God teaching you lately?