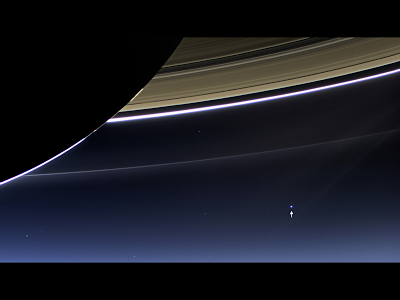 Amazing God!  Amazing Earth!  Amazing!
Take a minute to look at this photo.
See that tiny dot? That is us. Earth. That's home seen from far away.
Isn't this photo astonishing?
NASA released this photo on July 19. The wide-angle camera on
NASA's
Cassini spacecraft
captured
Saturn's
rings and our planet Earth and its moon in the same frame. Earth, which is 898 million miles away in this image, appears as a blue dot at center right; the moon can be seen as a fainter protrusion off its right side.
Like this photo, our lives often appear like a speck in the middle of nowhere. We wonder if any one cares or speculate if we matter. We feel alone in a dark night.
My first thought when I saw this fascinating photo was that how God sees us. He sits in remote heaven listening to harp music and giving orders to angels.
Then I realized God does not view us from a distance. He is here on earth. In our hearts. Walking with our spirit. Communing with us. Desiring to be with us. To have an intimate relationship with us.
God is here, not way out there. Here right next to us. Here within us.
God cheers when we celebrate and tenderly holds us when we cry.
I fall on my knees in thankfulness that God isn't way out there, someplace beyond Saturn.
I bow down in humble wonder of the vastness of the universe knowing God is even greater.
The earth may just be a faint point in the universe and beyond Saturn not even known to exist. But to God, we do exist and we matter. He loves us no matter how small we feel. We aren't small in his eyes.
We are his people. Amazing, that is what God is!