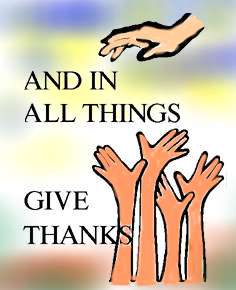 The grateful heart sits at a continuous feast.

 

Proverbs 15:15
My prayers and thoughts lately have rested on thankfulness. I do feel as the verse from Proverbs states, like I have been to rich banquet.
I hope in leaner, dryer times to focus as much attention on gratitude as in these good times.
"During a spiritual renewal weekend that I just attended someone at a discussion table raised a question that has really gnawed at my conscience. "What if tomorrow when you awoke, the only things you had were the things you thanked God for today?"
What a powerful statement. Makes you think, squirm, and fall to your knees thanking God, doesn't it?
Pondering that question reminds me of many, many forgotten moments to hold up to Him with gratitude.
Then later I read this quote:
We don't need more to be thankful for, we need to be more thankful.—Source Unknown
I have much to be thankful for recently.
Everywhere I look I am seeing questions, quotes, and prayers about thankfulness, which in turn evokes more gratitude.
I stand under a powerful thundering water of mercy and grace. Being thankful has swept me into a current of joy that is beyond words.
Each beat of my heart says what my voice cannot: Thank you Lord.
Be Thankful
Be thankful that you don't already have everything you desire,

If you did, what would there be to look forward to?
Be thankful when you don't know something

For it gives you the opportunity to learn.
Be thankful for the difficult times.

During those times you grow.
Be thankful for your limitations

Because they give you opportunities for improvement.
Be thankful for each new challenge

Because it will build your strength and character.
Be thankful for your mistakes

They will teach you valuable lessons.
Be thankful when you're tired and weary

Because it means you've made a difference.
It is easy to be thankful for the good things.

A life of rich fulfillment comes to those who are also thankful for the setbacks.
Gratitude can turn a negative into a positive.

Find a way to be thankful for your troubles and they can become your blessings.
Author Unknown
What are you thankful for today?