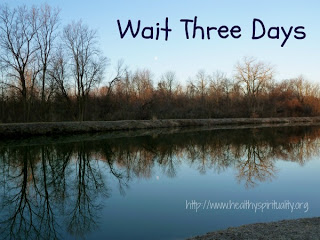 We all have them, tucked into our hearts and seared in our memories.
Certain classic phrases our mothers said to us.

 

Here are a few I remember my mom proclaiming:
If all your friends jumped off the bridge, would you?
Don't put that ketchup bottle on the table.
God loves you and so do I.
As long as you live under my roof, you'll do as I say.
Close the door! You don't live in a barn.
Drink your milk before all the bubbles disappear and you will have curly hair.
 

I think the funniest and most unusual saying she had and one my kids still laugh about today is this:
Wish in one hand and pee in the other and see which one you fill first.
Mom didn't want me to wish my life away. Dreams were important, but so was the hard work to achieve them.
But there was one axiom she said that has helped me more than once.

 
Mom would use this expression whenever I was depressed or discouraged or unable to make a decision. She would say, 
"Wait three days. Imagine what it was like for the disciples on Good Friday. Then the silence of that Saturday. They only saw the sadness, the death, the darkness. But look what happened after three days. On Sunday morning, Jesus rose from the dead and his resurrection changed everything. The world changed. They changed. Jesus is alive! Wait three days and see what happens."
Mom died when I was only 26 so much of my adult life has been without her. She never held my babies or watched them grow into wonderful adults. She never saw me in my different roles as a nurse or read my words as a writer.

 
But I still follow her Easter advice. Whenever I get discouraged or filled with self-doubt, I pause. When life gets unbearable, I remember to halt my worrying briefly and give space for my anxiety to dissolve. I don't make any hasty, impulsive decisions.
I wait three days. I wait and most of the time, something will change that will guide me in the best direction. Sometimes I change; sometimes the circumstances, but waiting three days has always been a great guideline.
Mom did not originate this advice: she learned it from Jesus.
For as Jonah was three days and three nights in the belly of a huge fish, so the Son of Man will be three days and three nights in the heart of the earth. 
Jesus answered them, "Destroy this temple, and I will raise it again in three days." 
As we celebrate Jesus' resurrection and life this holy weekend, I invite you to think about the value of waiting three days. For the disciples, Good Friday or Silent Saturday had to be the worst days of their lives. Imagine what their lives and our lives would be like if they continued to dwell in those dark days.
No, they waited three days and everything changed. 
Three days later Jesus rose. He is alive. Allelua!
Mom was right. Wait three days and often the next step will be clear.
Wait three days – a great Easter mommyism.