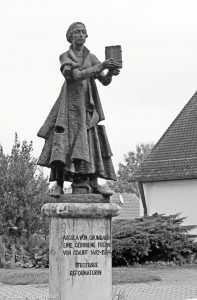 Many stories about women in history are forgotten, hidden or never told. Learning about strong women who made a difference in their world inspires me and I want to tell their stories.  Lately, I have uncovered more and more of these WOW women and thought I would share a bit of their lives with you over the next few weeks.  Last week we met one and here is a new one today
Enjoy the series.
WOW Woman – Argula von Grumbach
The chatter about what happened in town couldn't be stopped. Everyone in Ingolstadt, Germany heard about the trial of young Arsacius Seehofer and how the church had silenced him by exiling him 160 miles south to a Benedictine monastery.
The year was 1523 and the German Catholic Church practice damage control of the rising Reformation movement. Two years before this, Martin Luther published a German translation of the Bible that was now, thanks to the new-fangled printer presses, a best seller. Arsacius spoke about these new beliefs at his university and the church quickly got rid of him.
What could anyone do?  None of the local men came forward to protect him. The church was powerful. The message controversial. Emotions erupted.
One person decided to do something. Argula von Grumbach.
Who? A woman? An uneducated female?  A 31-year-old mother of four children? What could she do?
Argula wrote a letter.
Her letter to the university suggested that another trial be held, this time in German, so the townspeople could participate. She stressed that the Bible be the standard used to measure his guilt or innocence. She even offered to defend this young man.
To the honorable, worthy, highborn, erudite, noble, stalwart Rector and all the Faculty of the University of Ingolstadt: When I heard what you had done to Arsacius Seehofer under terror of imprisonment and the stake, my heart trembled and my bones quaked. What have Luther and Melanchthon taught save the Word of God? You have condemned them. You have not refuted them. Where do you read in the Bible that Christ, the apostles, and the prophets imprisoned, banished, burned, or murdered anyone? You tell us that we must obey the magistrates. Correct. But neither the pope nor the Kaiser, not the princes have any authority over the Word of God.
You need not think you can pull God, the prophets and the apostles out of heaven with papal decretals drawn from Aristotle, who was not a Christian  at all. . . . You seek to destroy all of Luther's works. In that case you will have to destroy the New Testament, which he has translated. In the German writings of Luther and Melanchthon I have found nothing heretical. . .
Even if Luther should recant what he has said would still be the Word of God. I would be willing to come and dispute with you in German.
 You have the key of knowledge and you close the kingdom of heaven. But you are defeating yourselves. The news of what has been done to this lad of 18 has reached us and other cities in so short a time that soon it will be known to all the world. The Lord will forgive Arsacius, as he forgave Peter, who denied his master, though not threatened by prison and fire. Great goodwill yet come from this young man. I send you not a woman's ranting, but the Word of God. I write as a member of the Church of Christ against which the gates of hell shall not prevail. . .
— Argula von Grumbach, 1523
The university laughed and quickly ignored her request.
But the printing presses went to work again.
Her letter was published and read throughout Germany. She wrote seven more pamphlets defending the ideas of Martin Luther. Between 1523 and 1524, about 29,000 copies of her writings were distributed in Germany – an impressive number at that time.
Argula was an avid reader of the Bible and impressed even the scholars with her knowledge. She used the Living Word as her foundation and standard.
She traveled alone – as a woman! – to Nuremberg to address the German princes to listen to and accept the Reformation principles. It was very unusual for a woman by herself to lobby and write pamphlets for any cause, but Argula's confidence in the Scriptures gave her courage.
In response to just being a woman she wrote,
"I am not unacquainted with the word of Paul that women should be silent in the church (1 Tim. 1:2) but, when no man will or can speak, I am driven by the word of the Lord when he said, 'He who confesses me on earth, him will I confess and he who denies me, him will I deny,' (Matt. 10, Luke 9), and I take comfort in the words of the prophet Isaiah (3:12), 'I will send you children to be your princes and women to be your rulers.'"
She went to Coburg in 1530 to dine with Luther, and in 1563 was imprisoned briefly for presiding at burial services. She died in 1568.
She paid a price for speaking out and standing up for her beliefs. Her family shunned her. Her husband lost his job. She was taunted and called names by the authorities. They called her "a silly bag, a wretched and pathetic daughter of Eve, a female desperado, an arrogant devil, and a shameless whore."
She wrote poems in her response to the slander.
Argula's words and actions are an important part of history that needs to be told and celebrated. She stressed the supremacy of the Word of God and the priesthood of all believers that included women. She wanted an open discussion on politics and theology in common language.
Here is an interesting YouTube presentation to listen to:
Lessons
The word of God – the Holy Scriptures – continue to be our foundation and standard.
Standing up for our beliefs takes courage and comes with consequences.
Writing is powerful and our words carry weight. Use your gifts for God.
Following God and his call isn't always easy but the only way.
What does the story of Argula teach you?