Are You Worth the Wait? – Slowing Down to be with God
Today's question: Are you worth the wait?
Welcome back to this special week on Healthy Spirituality – the 2016 Spiritual Summer School with the theme of Slowing Down to be with God.  I have been posting all this week and then live streaming daily on Facebook Live. Today is my last day for this topic here and on Facebook where I will be live at 9:30 am today. The replay will be available later on my Facebook author page. I hope you can join me there for the video.
All week we explored different aspects of Slowing Down to be with God.  So far we have "set the stage" for slowing down to be with God on Monday and on Tuesday we began to unpack the word SLOW starting with the letter S and I shared Six Strategies for Slowing Down to be with God. Wednesday we explore listening to our language and the language of God as we slow down to be with him. Yesterday we looked at Outstanding Options we have for slowing down. And now we have arrived at our final letter "W."
W stands for Wait and Worth and I merged them into the key question – are you worth the wait?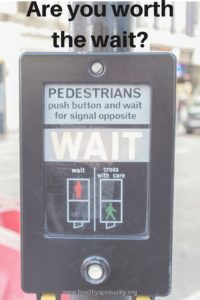 Wait and Worth
We get impatient when we have to wait. We just have too much stuff to get done to "waste" time with pauses in our life. Who has the time just to linger with God anyway?  Let's get a move on it, save a seconds here and there with productivity tools and speed along in the fast lane.  
I want today to explore four areas we can slow down, grow in when we wait, in those pauses in life, in those in-between moments – all wonderful opportunities to connect with God.
4 Wait Time Tactics
The Lift-off
I just finished an interesting book titled Four Seconds by Peter Bregman. He uses research to prove to the reader that simply pausing the length of a deep breath increases our capacity to resist distractions. 
"Research shows that an ability to resist urges will improve your relationships, increase you dependability and raise your performance. If you can resist your urges, you can make better more thoughtful decisions.
You can be more intentional about what you say and how your say it.  You can think about the outcome of your actions before following through on them…
It is probably the single most important sill for our growth and development…
Four seconds is all it takes to make a more intentional, strategic choice that's more likely to get you where you want to go."
Peter Bregman
Four seconds?  Did you get that?  We complain and whine we don't have time to slow down with God, but in as little of time as four seconds we can choose the better way – the slower to attend to our deep work of being with God.
This empowers me and gives me hope in the battle to resist busyness and distraction. In those first moments, pushing pause, taking that deep breath could be a simple trigger to remind  myself to slow down and be with God.
This simple practice reminded me of a blog post I wrote three years ago called Blue Tooth Discernment:  Here is part of my insight:
My car and I talk:

I push the Bluetooth phone button.
"Ready," my Chevy Equinox, so eager to please, responds.
"Call home." I direct.
"Home?" the mechanical feminine voice asks. "Say yes or no."
I quickly say, "yes."
"Home?" the mechanical feminine voice says. "Say yes or no."
"Yes!" I repeated rapidly after her second attempt.
"Ok, good bye."
After this happened to me several times, I learned my lesson. If I respond with my "yes" too fast after her question, my friendly computer friend doesn't understand and the communication fails.
If I pause before I say "yes," things go much more smoothly.
Pause before proceeding. Is this a good time to slow down to be with God?  A moment of smiling with him.  A period of deep breathing.  A 10-minute break for centering prayer. A few minutes of walking in the garden, inhaling God's creation.
Four seconds. A pause. Yes, I can make a slower decision and celebrate a few minutes with my Lord.
Could you wait just four seconds before moving on to correct your course and spend some time with God during your day?
  2. 
Linger Longer
My hubby is the guy people call with technology problems. His number one trick when people have trouble with their computer, phone or tv is this:
"Unplug it. Hum the Jeopardy Tune, then try again."
He tells me when you unplug, the device reverts back to its original factory settings – its natural default mode, the pattern in which it was built.
The same is true for us. When we unplug, linger a moment with God, we are restored to how he made us originally. We need to slow down to be with God more than He does. God made us for relationship with him, he wants to be with us, but it is for our sake more than his need.
Unplugging and lingering connects me to God. A simple step that can be easily incorporated into our daily living. We just need to remember to do it.
I find to think of my day as a path with many bridges to cross. To me the bridges represent the transitions from one project to another, the brief moment at the completion/the checking off of a task and before you begin the next thing.
As I shift gears, I press my foot on the clutch
– signaling to my heart, it's time for God's touch.
Here is another thought provoking quote:
"It is always the simple things that change our lives. And these thing never happen when you are looking for them to happen. Life will reveal answers at the pace life wished to do so. You feel like running, but life is on a stroll. This is how God does things."
Donald Miller 
How will you remember to linger with God in the moments of your day?
3. Whistle While You Work,

no, Listen While You Wait
Yesterday's blog post shared ideas on how to listen to God in his Word.  Praying at specific times of the day is another way to connect with God and help you slow down. 
One spiritual practice is called Praying the Hours or the Divine Office or fixed hour prayer. Many religious communities honor this ancient pattern of prayer, but it is surprising how many lay members also pray the hours.  Some people pray around the clock at about three hour intervals but many pause for prayer during hour they are awake, such as 9 am, noon, 3 pm, 6 pm and 9 pm.  In reality you can set you own schedule for how often and whatever works best.  The idea is to predetermine what time segments, provide a framework, a routine when you will pause your work to pray.
"Seven times a day, I praise you…"
Psalm 119: 164
Praying the Hours isn't meant to be another chore to do or to be a rigid rule – but a rhythm of pausing to be with God.  Many people pray specific words – like reading the Psalms or classic prayers.  There are web sites, like the Prayer Foundation, and books, like The Divine Hours by Phyllis Tickle, are available to provide those routines.
"Evening, and morning, and at noon, will I pray, and cry aloud, and he shall hear my voice."
-Psalm 55:17
Think of praying the hours like having a regular appointment with God. Sometimes appointments need to be cancelled or changed or may run late, but usually they are kept and becomes an opportunity for connection and conversations. 
Making a commitment like this helps us slow down and listen to God in new ways.
4. Learn to Listen
What techniques can we use to remember to slow down to be with God? I know finding a trigger jars me out of my default mode and then I pause and remember God.  A trigger is something you see or hear frequently that can be used as reminder. A prompt to pause.
Stopping at a red light.
A Bird sitting in your back yard.
A certain word.
Every time you touch a towel.
Waiting for a page to load from the Internet
When you hear a siren
Going up or down stairs
Find your own special reminder and this point of learning to listen will become a gift from God.
I have my cell phone with me the majority of the time. I have downloaded several apps that remind me to pray – all free.
One is called Go Tandem and sends me a Bible verse twice a day. I hear it come into my phone with a pleasant tone, pause to read God's word and leave refreshed from slowing down to be with God.
Another one I like IFTTT – which stands for If This, Then That.  You create "recipes" for actions. For example, one of my recipes are "If it is 2:00 pm, then send me a text at…. to remind me to thank God."  Again another quiet chime dings at 2 each day. I hear it. I smile.I connect with God. Explore what's available as apps for your phone; you will be amazed.
What time trick/tactics will you use to slow down to be with God?
Are you worth the wait?
In the pause, the breath between busyness, the wait among the weight of the world, we discover worth.  Our worth and a worthy God.
Our worth
You are a beloved child of God.  God wants to spend time with you. He made you for relationship with him. He waits for his cherished, loved child to come to him. He knows you are priceless, an original, his creation.
Somewhere, something incredible is waiting to be known.
Carl Sagan
While I like Sagan's quote I would like to offer a change in his words:
Someone incredible, the Lord God Almighty, is waiting to be known. 

You are worthy and God waits for you.
I am worthy and God waits for me. 
And because of this, I slow down to be with him. You can too.
God loves each of us as if there were only one of us.
St. Augustine
A Worthy God
God is creator, king, friend, savior.  He deserves our time, our moments, our lives surrendered to his worthiness.
All the nations you have made will come and worship before you, Lord; they will bring glory to your name.
 For you are great and do marvelous deeds; you alone are God
Psalm 86: 9-10
God is worthy. Worthy of our every moment. Our heartbeats. Our ordinary days. Our pauses and our focus.
God is worthy.
And because of this, I slow down to be with him. You can, too.
This concludes our 2016 Spiritual Summer School with the theme Slowing Down to be with God.
Here is a summary of today's questions to ponder, to use as journal prompts, to take to God in prayer.
What have your discovered this week as the benefits of slowing down to be with God?
Is waiting time wasted time?
What will really happen I you hit the pause button, once, twice, or more during the day?
How will you remember to linger with God in the moments of your day?
Could you wait just four seconds before moving on to correct your course and spend some time with God during your day?
Write out you believe you are and how you are worthy of slowing down to be with God.
Write out a prayer about how worthy God is and how you desire to be with him more.
Are you worth the wait?
Remember, I compiled a free workbook about this series with places to write your thoughts, daily homework space, resources and inspirational quotes.  You can get this resource by clicking on the button below:
I have two books that may also help you on this journey:
Spiritual Retreats: Slowing Down to be with God.  Right now the e-book version is only 99 cents on Amazon.
Whispers – Being with God in Breath Prayer.
And I hope you will return frequently to Healthy Spirituality. Sign up to get it in your inbox. Connect with me on Facebook, Twitter, and Pinterest. Leave comments.  Let's stay in touch and be companions on this spiritual journey we are all on together.
Let me know below how you liked this series. What thought has resonated most with you? What is your next step? How will YOU slow down to be with God?