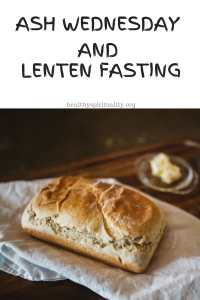 Ash Wednesday begins this week, marking the first day of Lent as we turn our hearts and minds toward Good Friday. Then we can celebrate Jesus's resurrection on Easter Sunday.
Ash Wednesday
On Ash Wednesday, many churches hold a special worship service where the people are blessed with ashes, typically marking their foreheads with the sign of the cross. The blessing typically comes with a reminder that we all come from ashes, and to ashes, we all will return.
The marking of the forehead has been a known custom since Pope Gregory the Great in 604. It has been said to have a twofold purpose, one being the ashes were marked for humility and mortality and then also for sorrow and repentance.
In the 12th century, the rule developed that the ashes were to be created by burning palm branches from the previous Palm Sunday. Many parishes today invite parishioners to bring such palms to church before Lent begins and have a ritual burning of the palms after Mass.
The custom of repenting with ashes was not an original Christian act, as the earliest Jews often sat on the ground in the rubble of ashes and spread it over themselves in order to express their sorrow for their poor deeds unto the world.
The day before is called Shrove Tuesday. Lent is a time of abstinence, of giving things up. So Shrove Tuesday is the last chance to indulge and to use up the foods that aren't allowed in Lent. Pancakes are eaten on this day because they contain fat, butter and eggs, which used to be forbidden during Lent. My local parish is hosting a pancake supper on Tuesday. The name Shrove comes from the old word "shrive" which means to confess. On Shrove Tuesday, in the Middle Ages, people used to confess their sins so that they were forgiven before the season of Lent began.
If we picture all the obstructions between us and God as a wilderness,
Lent presents us with time to clear and cultivate a part of that wilderness,
to create an open space in it.
In this newly opened space, we may live more freely and
commune more closely with the divine.
We can transform this wilderness and make it our home, our garden,
a place that invites God in and asks God to stay.
-Sarah Parsons
A Clearing Season: Reflections for Lent
Lenten Fasting
The idea of creating space for God in an open and clear heart appeals to me. The spiritual practice most people think of during Lent to do this is fasting. Here are some questions to consider when deciding if you will fast and what you will do during this time of fasting:
• What comes between us and God?
• Is it time to let go of what we hold so tightly to that we can't open our hands to receive God's blessings? To what material things am I too attached?
• What habits do I engage in that take me away from God? Is there a habit or sin in my life that repeatedly gets in the way of loving God with my whole heart or loving my neighbor as myself? How do I address that habit over the next 40 days?
• What areas in my life that need more balance?
• To what do I devote too much or not enough time?
• On Easter morning, how will I be different?
• Is there anyone in my life from whom I need to ask forgiveness or pursue reconciliation?
• From Osheta Moore: I read somewhere to begin my Lenten fast with asking God what He wants me to "pick up" from Him, and that will help me discern what I should "put down" for Him.
This quote from Martin Luther wakes me up to think about what adheres to my soul instead of God.
"Whatever your heart clings to and confides in, that is really your God."
Here is a potpourri of ideas for things to give up or for participating in a Lenten fast:
Chocolate, soda, or ice cream or meat on Fridays
Sarcasm
Impulse buying – Don't buy what you don't need.
Throw away 40 things for 40 days.
No gossiping.
No eating after dinner.
Say 3 nice things to your spouse & kids daily.
Don't eat out for 40 days.
Replace 30 minutes of TV time with 30 extra minutes of devotion/prayer
Give to the poor.
Do an extra chore each day
Make a special prayer book and intentionally pray for people each day
Drive in silence each day
Write a letter to God each day
Read a story to a child every day
Set time limits on overall online time or with your smartphone
Write a letter of thanks to your pastor, a former teacher, someone who made a difference in your life.
Read a Psalm each day
Write out three things you are grateful for each day
Go for a walk with a loved one
Exercise each day
Join a Bible study
Read an inspirational book and/or spiritual autobiography
Find a spiritual director
Volunteer at a non-profit
Visit a shut-in
Try to volunteer for something new at worship – usher, lector, communion assistant
No eating after dinner.
Lent is a tremendous opportunity for spiritual growth. I hope these suggestions re-energize you on your spiritual journey.
"O Lord and Master of my life, grant not unto me a spirit of idleness, of discouragement, of lust for power, and of vain speaking.
But bestow upon me, Thy servant, the spirit of chastity, of meekness, of patience, and of love. Yea, O Lord and King, grant that I may perceive my own transgressions, and judge not my brother, for blessed art Thou unto ages of ages. Amen."
(prayer used during Great Lent in the Eastern Orthodox Church
If you are looking for a good book to read during Lent, I wrote 40 Voices, a Lenten Devotion that is available on Amazon. Thank you for considering this book.
How will you spend your "one and only precious" life during Lent?
PS I changed the format on how to leave comments with all this background technical updates I am doing behind the scenes of this blog. Sadly, I lost the last 8 months of comments though older ones are still there. Strange, right? Anyway, I love your comments and input into our discussion here. One more major step will occur this month and hopefully, this rewiring and replumbing of health spirituality will be done. YIPPEE!