"It's a Wonderful Life"
– my absolutely favorite movie! I broke away from Christmas busyness and escaped for a few hours the other day – indulging myself in my annual treat of watching Jimmy Stewart in this great movie.
The closing scene still gives me goose bumps – surrounded by what really matters in life – friends and family – knowing Clarence got his wings and all singing the classic "bring in the new year" song – Auld Lang Syne.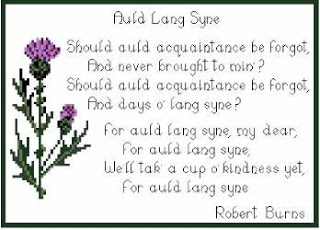 Since I have writing about the stories behind difference Advent and Christmas hymns this month, I wondered about this song. I sing it with gusto each year and don't even know what the title means.
Here is what I learned:
·

     
Auld Lang Syne
literally translates to "
Old Long Since,
" and more roughly it means "
long, long ago" or "days gone by."
·

     
Auld Lang Syne
is a Scottish poem, thought to be composed or at least compiled by Scottish poet and lyricist Robert Burns in 1788.
·

     
The tune is the traditional folk melody though was played faster for dancing
·

     
Sung traditionally by most of us on the stroke of midnight each New Years Eve however in Scotland, where
Auld Lang Syne
originates, it is also sung on Burns Night, January 25th, to celebrate the life of its author.
·

     
Canadian band leader
Guy Lombardo
popularized the use of the song at New Year's celebrations in America, through his annual broadcasts on radio and television, beginning in 1929.
·

     
Many people join hands with the person next to them to form a great circle around the dance floor while singing this song. At the beginning of the last verse, everyone crosses their arms across their breast, so that the right hand reaches out to the neighbor on the left and vice versa. When the tune ends, everyone rushes to the middle, while still holding hands. When the circle is re-established, everyone turns under the arms to end up facing outwards with hands still joined.
·

     
This song is in many other movies besides my favorite:
One Way Passage

,
Mr. Smith Goes to Washington,

Wee Willie Winkie

, and
When Harry met Sally

So impress your family with some Auld Lang Syne trivia this year and take that cup of kindness yet and carry it into 2011!
Should auld acquaintance be forgot, 

And never brought to mind? 

Should auld acquaintance be forgot, 

And auld lang syne! 


Chorus.-For auld lang syne, my dear, 

For auld lang syne. 

We'll take a cup o' kindness yet, 

For auld lang syne.