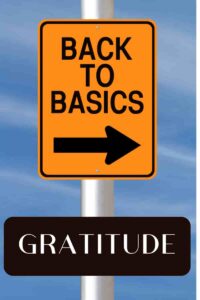 Back to basics is often the first step in September when the kids return to school. Teachers take the time to assess each student's status and what next steps are needed to best help them.
Back to basics can work periodically for our spiritual journeys too. September is often called the second new year – a time for fresh starts and reenergized actions.
What are the essential practices that nourish my soul? Am I honestly making the most of them? What are my next steps?
Our spiritual practices don't evoke God, force God to come or really have much power at all. But regular disciplines slow us down and align our heartbeat to sync with the Divine. God is always present; it is our attention that wanders off to the edges. Practices center us and bring us home.
Stop and identify what are the basic practices that resonate with your spirituality? These are the basics that September invites us to enter deeper. For me, my essential practices are gratitude, journaling, prayer, and sacred reading. The next four weeks on this blog I will explore each of these. I hope you come along with me!
Back to Basics with Gratitude
Take a moment to enjoy this video titled "A Grateful Day with Brother David Steindl-Rast". If you are reading this through email please go to the blog to see it. It is well worth it.
I am grateful for each new morning.
The sky.
The green fields of Ohio
The butterflies dancing by the Black-Eyed Susans.
The smile of friends.
The stories shared at church.
A cool glass of water.
The calming by a backyard pond.
The friendships birthed through this blog – You!
I open my heart to all these blessings.
And live with a thankful soul.
How will you implement back to basics? What are your essential spiritual practices?