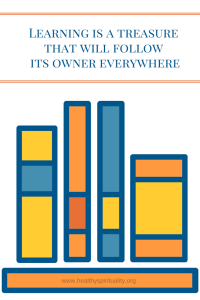 September always reminds me of going back to school. I love to learn and this time of year I search out for new tidbits of information or new tools or techniques to stimulate my mind. What can I learn this year?
On a side note: September floods my mind with childhood memories of getting new clothes and pens and pencils and paper and all those goodies. As a mom, I loved taking each child on a one to one date where we shopped for clothes and pens and pencils and paper and all those goodies.
Now as a writer, September lures me to shopping once again. Funny how the calendar tempts me to buy, buy, buy. Now working out of my home except for my church job requires less fancy clothes but the writer in me loves to hit those school supplies aisles for marker, papers, and post it notes. Take me near a Staples or Office Max and my hubby knows I am a goner for at least an hour – wow they are as bad as bookstores for me!
But I digress…
Back to learning – lifelong learning.
"I'm a big believer in growth. Life is not about achievement, it's about learning and growth, and developing qualities like compassion, patience, perseverance, love, and joy, and so forth. And so if that is the case, then I think our goals should include something which stretches us."
Jack Canfield
Commit yourself to lifelong learning. The most valuable asset you'll ever have is your mind and what you put into it.
Brian Tracy
September challenges me to learn. What can I – can we – learn this fall? How can we grow spiritually? What new challenge will stretch us – grow our faith and our minds?
I signed up for a spiritual formation nine-month program that starts next week. It is called – Foundation of Christian Spirituality – a reflective study of the Christian Wisdom Traditions over the centuries. There will be a ton of new reading, stimulating group discussion and I imagine some outgrowing of my comfort zone.
I am continuing with my yearlong study of the Desert Mothers and Fathers. Been reading and taking notes but think the next stretch for me will be to share that here on the blog in my own words. What do these people from so many years ago have to say to us now? What practices can they teach us? Look for that series coming up later this year. (Now that I have stated this publically I better follow through right? YIKES!!
I have been also learning some new tools to use on this blog and man, am I in overtime mind-stretching mode learning about podcasting and periscope (live streaming). Both are new technologies and ideas for me – full of excitement, apprehension and sometimes near panic about making a fool of myself. Again way outside my comfort zone but in the location where true growth occurs.
I really believe once we quit learning, we are dying. Lifelong learning, trying new things, learning a new vocabulary, exploring a newfangled tool – all keeps us alive.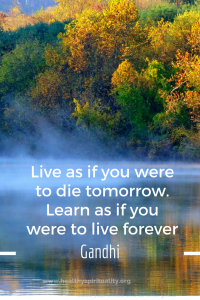 Where is God leading you this fall? What new topic/tool/technique are you learning?