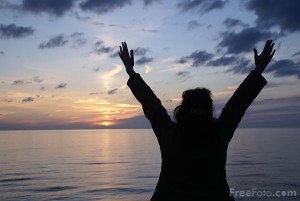 A person will worship something, have no doubt about that.
We may think our tribute is paid in secret in the dark recesses of our hearts, but it will out. That which dominates our imaginations and our thoughts will determine our lives, and our character.
Therefore, it behooves us to be careful what we worship, for what we are worshiping we are becoming.
This quote about becoming what we worship stopped me cold. I felt that nudge from the Spirit to pay attention.
What am I worshipping?
I would love to say I only worship, bow down to God, the Creator and Almighty. But in reality I know when I am honest, that my eyes often focus on other things.
My heart yearns for accomplishment.
My eyes see the glitter of the world.
Envy and discontent pop up when I desire what others have.
I remember pacing the floor, my tummy swirling in knotted anxiety as the Ohio State Buckeyes played in their last few games towards this year's national championship. I remember thinking – why don't I get this excited, this focused, this determined in my devotion to God?
I knew there was a vast difference in what I say and in how I practice.
"Tell me to what you pay attention and I will tell you who you are."
~Jose Ortega y Gassett
I give the power to insignificant distractions to form my identity instead of remembering, embracing and living from the reality that I am a child of God.
What am I worshipping?
What am I willing to sacrifice my life for?
Where do I spend my money, my time, my energy?
"We must never rest until everything inside us worships God."
 A. W. Tozer
I worship God because of who he is, not for what I am.
"You become like what you worship. When you gaze in awe, admiration, and wonder at something or someone, you begin to take on something of the character of the object of your worship."
Worshipping God and only God allows the Creator to shape me in his mold. What I focus my heart and eyes upon, I become. I imitate, reflect on where I fix my attention.
Convicting thoughts today.
Disquieting questions to consider.
All moving me out of my comfort zone to reach for the mysterious unknown of true worship.
What are you worshipping?