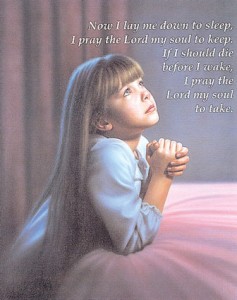 One of my earliest memories is my mother tucking me into bed and reciting with me the classic children's prayer:
Now I lay me down to sleep,
I pray the Lord my soul to keep.
If I should die before I wake,
I pray the Lord my soul to take.
The origins of this prayer are unknown. However, the first printed edition was in Boston in 1737.
I know there are several versions of this including a humorous one for single women:
Now I lay me down to sleep
I pray for a man who is not a creep…
But I digress…
As an adult I have a different bedtime prayer ritual, the Daily Examen.
The Daily Examen is a technique of prayerful reflection on the events of the day in order to detect God's presence and discern his direction for us. The Examen is an ancient practice in the Church that can help us see God's hand at work in our whole experience.
It originates with St. Ignatius.
The simple steps of this prayer are:
1.

    
Quiet yourself. And allow yourself to relax into God's loving arms. Some people imagine sitting on the sofa with God.
2.

    
Ask God to be present with you.
3.

    
Reflect on the past 24 hours, asking yourself several questions.
My favorite questions to ask are:
a.

    
What am I most grateful for? What am I least grateful for?
b.

    
When did I feel most alive today? When did I most feel life draining from me?
c.

    
When did I feel God's presence today? When did I feel the furthest from Him?
4.

    
End the prayer time with thankfulness to God.
To be honest, when I first began this practice, I assumed I would have an endless list of things I was ungrateful for – those low points of the day that overshadow our souls and drag us into discouragement. I thought I would have to really dig through all the daily muck to find any nuggets to hold up in gratitude.
I was wrong.
The opposite occurred.
I look back upon my day and moments of mercy, glimpses of grace, and golden gems of goodness are easily found. Many times I can answer the second question and name the shadows that steal joy from my day, but surprisingly they dim and disappear in the light of gratitude.
This spiritual practice helps me refocus on God and His movement and presence in my life. The Prayer of Examen guides us to reflect and see God's love in every ordinary nook and cranny. Reviewing the low moments often points us to areas that need healing and further growth too.
What is the first prayer you remember? How do you pray at bedtime?