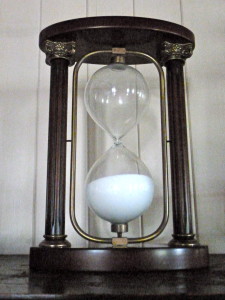 I was on retreat last year when I shared with the spiritual director my ongoing frustration of the divide between my head and my heart. I think too much. I deeply want to trust. I step out into life before seeking God first. I think I run the world, not the One who really does.
Off with her head – I wanted to scream!
My director calmly asked what image comes to mind when I ponder my head and heart. Immediately I knew – an hour glass. Open on top and bottom but constricted in the middle.
She suggested I pray for a new image and see where God leads me.
Odd prayer, isn't it? Dear Lord, how do you want me to see my head and heart? How can I better visualize them working together not tearing my soul apart? Please show me, Lord.
Over the next few days of the retreat God slowly showed me a new image – a tree. My heart is the roots, growing deep in his love. My head are the branches – intentionally reaching out to him in his light and love. In between where the restricted narrow hour glass stem used to be evolved into a strong connecting trunk.
The trunk of the tree allows the nutrients of the roots to feed the branches. The branches take in nutrients from the air and from the sun and feed the roots. Not restrictive – open, flowing, working together for a healthy tree, a healthy soul.
Now when I think of being open to God I imagine the tree. My tree of life from God.
I am reading a good book right now by Greg Paul called Simply Open – a guide to experiencing God in the everyday. He offers tools as simply as using our senses to deepen our spiritual journey.
He addresses the concepts of being open, the enemies such as fear and busyness to finding openness and a map through the senses to experience God in the ordinary.
I like how he categorizes how God opens us up: in release, in receiving, in becoming and in doing. Here is one of his prayers for releasing in our seeing:
Lord, open my eyes,
That I may release what I have seen,
And so see you,
See myself through your eyes,
And truly see others.
So often I let what I have seen in the past or what I perceive as truth blind me to what really is. It is hard to let go of perceived notions, old images (like my hourglass) and allow God to show us his perspective.
In knowing God, Paul writes, "we cannot contain; we can only be open."
I recommend this book if you are interested in learning to be open to God. I received the book from Thomas Nelson in return for a review but didn't have to give it a good report. I am glad to add this book to my shelf.
When you ponder being open to God, what image comes to your mind?