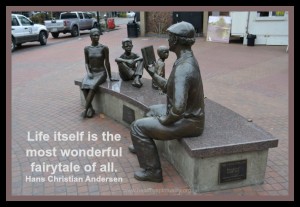 I am attending today a conference/festival on Bible Storytelling presented by a group called the Network of Biblical Storytellers.
I have always been fascinated by good storytellers – they bring life to words and pull even the most reluctant adult into a story world. Going to this festival has been on my bucket list for a long time. 
Our own holy scriptures were first told verbally. Just imagine hearing the parables of Jesus or the story of Noah told well around a campfire.
Sacred stories are those of transformation, they are stories that draw us closer to what I call the Lord Within The Heart, and they help us to see our connection to all things. There's a saying in the Jewish tradition that the shortest distance between [a hu]man and God is through a story. So if storytelling is a journey, sacred storytelling is a pilgrimage—a pilgrimage to a place called Hope.

Andy Fraenkel
I will share more about my learning adventure next week once I return but this made me think about my favorite Bible stories.
I love when Mary Magdalene thinks Jesus is the gardener in the resurrection story and all changes when he simply says her name. Or how Elijah hides in discouragement and fear and God tenderly feeds his spirit. How I would love to tell these stories and bring them alive for others.
What is your favorite Bible story and why?