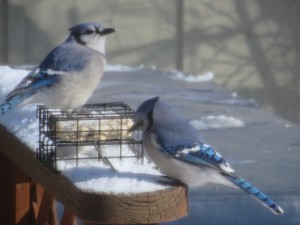 It was about the middle of January when we finally filled the feeders with birdseed. I look forward to every winter watching the birds flocked and feast outside of my office window.
We even put out the suet – the type the cardinals, blue jays and downy woodpeckers love.
Dinner is served. The banquet is ready. Come and get it!
But nobody came.
Hey birds – it's free food. Good and healthy. All are welcomed.
Nobody.
First day.
Second day.
"Where were my birds?"  I whined.
Third day. One measly sparrow showed up briefly and then flew off.
Fourth day – nothing.
The fifth day the word must have finally been broadcasted to the neighborhood as at one time more than 50 birds descended onto my deck enjoying the birdseed.
Today, now two weeks later I watched the blue jay enjoying the suet. A male and female cardinal rested on the little tree in the back yard after filling the tummies. Haven't seen the woodpecker yet but think he may still show. And the sparrows and the wrens– wow have they gobbled up with delight, frolicking outside my window.
Things just took time.
A long time ago when a good friend told me she was moving away and we reminisced about working together and the lessons we both learned. She told me her biggest lesson was to be patient, things take time.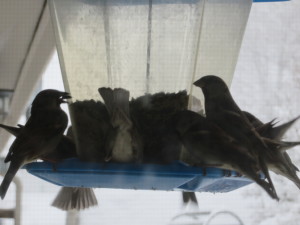 I don't like waiting. I am so spoiled with instant gratification and immediate "let's google the answer" expectations. This birdseed lesson reminded me of my glaring weakness.
I knew the birdseed was good.
I knew the birds would be hungry.
I knew.
But I fussed and fidgeted, fearful they would never come.
I forgot that things sometimes just take time.
Not my time. But God's time.
And that is a lesson I need to continually learn.
What lessons are you learning lately?