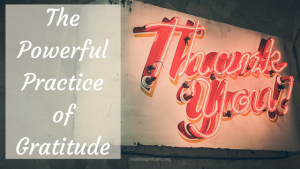 "Life is not about receiving at all times;
it is a combination of being thankful for what you have as blessings
and sharing those blessings with others who need a little fraction of what you have."
Catherine Pulsifer
Be a blessing, share our blessings and count our blessings all power up gratitude in our lives. Thankfulness isn't an "ego-stroking, let me feel better because it is all about me" action – being grateful opens our hearts to realize all we do have and then share these gifts from God with others.
Gratitude is November's Tending the Holy Thursday theme. Each month on my Thursday posts, I pick one theme (or person of faith) to explore in depth over several weeks.
Last week I introduced ideas about gratitude and challenge you to write a thank you note to God. Did you try that?   I did. My note to God evolved into prayer and a deep conversation about what I take for granted, forgiveness for times I ignore God's gifts, and an overwhelming thankfulness for my family.
This week I want to share a story of St Elizabeth and how her life of being a blessing to others, blessed her too.
Last November I created and shared a PDF of "50 Questions that Nurtures Gratitude in Life."  If you didn't request it last fall, you may enjoy receiving it now. Just click the button below for a FREE one-page PDF of the questions.
Click Here to Receive the Questions
Be a Blessing – St Elizabeth of Hungary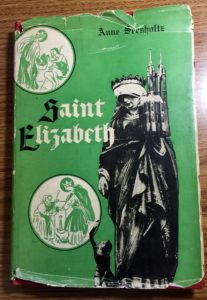 Tomorrow is the commemoration of St Elizabeth of Hungary. I saw this notation on the back of our church bulletin last Sunday where it lists recommended Bible verses for each day for the coming week.  St Elizabeth is a wonderful example of being a blessing.
Though no one knows for sure the exact date of her birth, often July 7 1207 is mentioned.  Her father was King Andrea II of Hungary and her mom's name is Gertrud.
Remember this was the time of murder, deceit and strange arrangements among royalty. When Elizabeth was only four, she became a pawn in the imperial maneuvering. Marriage among different kingdoms built alliances and strength, so Elizabeth was betrothed to the Landgrave of Thuringia in what we now call Germany.
Elizabeth arrived at Wartburg Castle. Can you imagine how frightening that would be to a four-year-old?  Strange country. Strange language. Strange surroundings.
Stories abound that Elizabeth as a child was deeply religious. She would be playing and stopped suddenly to pray to God.  It is said throughout her life that Elizabeth often got up during the night to pray.
Three years after her arrival the son she was to marry, died. Then the king did too. What would happen to Elizabeth?  Surprisingly the second son, now the landgrave, spoke up and announced he would marry her.  Some would say later on the two had play together, grown up together, knew each other as friends – and fell in love.
In 1221, Ludwig, age 20, married Elizabeth, not quite 14. Built on friendship their marriage was not as conventional as those before.  Elizabeth didn't stay back, but accompanied her husband on long rides throughout the country.  She kissed him in public. They discussed the condition of the people.
With Ludwig's approval, Elizabeth started a hospital with 28 beds at the foot of Warburg Castle where it was known she visited regularly to comfort and care for the sick. This is one reason why many hospitals are named St Elizabeth.
Two legends encircle Elizabeth: One is how she cared for lepers.  She took one in and put him into their bed. When Ludwig came in and pulled back the sheets, expected to see the sick man, he saw Christ.
The second story is called the miracle of the roses:  Elizabeth was carrying bread from the castle out to the villages to feed the poor and met Ludwig on her way. He asked what she was hiding in her skirt and she replied, "Roses."  Roses then appeared in her skirt instead of the bread.
Ludwig joined the crusades, but on his way to the Holy Land, he died in Italy. Her life as a widow with her three children then took a sad turn. The royalty no longer wanted or needed her.  Perhaps they were also embarrassed by her care for the poor and sick – not "very becoming" of the court.
Elizabeth was forced to leave Wartburg Castle and fled with the kids to Marburg where she joined the secular Franciscans order. In Marburg she devoted all her time to the poor and sick. Another new hospital was built where she worked. She often spoke of her intense love for God.  She died in Marburg at just before her 24th birthday and it is said hundreds of people pay tribute to her.
Elizabeth's life story boiled down to this: The love of God and the care of the poor.  Not a bad legacy to leave, is it?  A role model of being a blessing.
Be a Blessing – A Gratitude Challenge
"To speak gratitude is courteous and pleasant, to enact gratitude is generous and noble, but to live gratitude is to touch Heaven."
Johannes Gaertner

The challenge I am doing this week and I invite you to join me is this:  Make a list of as many of your blessings as you can think of – then intentionally share them with others.
We could donate to a cause we care about out of our financial blessings. Or surprise someone by anonymously paying for their coffee in the drive through.
How about visiting someone we have meant to see but have put off, based on the loved and support we have gotten from others in our lives.
I have two hands and postage stamps readily available in a drawer – I plan to handwrite some notes of appreciation.
Next Thursday we will have an abundant amount of food on our table, as it is Thanksgiving in the United States – who else could we invite to join us?
Can I be a blessing by NOT having the final word in a conversation?  Or intentionally keep my mouth shut, refraining from trying to fix someone or stress my opinion?
Give a compliment. Share a smile.
Check my attitude, leaving the negative and choosing the positive.
I found this great list of 100 Little Ways to Bless others.
We begin with paying attention to the blessings we have been given. We thank God for his gifts, flowing abundantly into our hearts. Then out of that precious overflow, we bless others.
God's grace gathered inward.
God's goodness given outward.
Jean Wise
[bctt tweet="God's grace gathered inward. God's goodness given outward. Jean Wise" username="Jeanwise"]
Living a life of gratitude helps us find the positive side of life and reminds us what is really important. Seeing the world through the lens of thankfulness gives our lives more meaning, more appreciation, and more joy. Gratitude balances life by counteracting all the negatives the world throws at our souls.
Don't forget to request PDF of "50 Questions that Nurtures Gratitude in Life."  If you didn't request it last fall or last week, you may enjoy receiving it now. Just click the button above for a FREE one-page PDF of the questions.
How will you be a blessing this week? How do you think blessing others helps you be grateful?