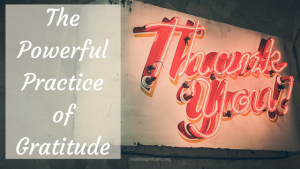 Gratitude nourishes the soul and refreshes the spirit. Intentionally practicing thankfulness brings peace and joy to our hearts.  Gratitude is a powerful spiritual practice.
Just as I learned last month and continue to nurture the phrase "grace before guess," this month I am focusing on gratitude and "living with thanksgiving."
[bctt tweet="Focusing on gratitude and living with thanksgiving. Jean Wise" username="Jeanwise"]
"Maybe the simplest and most effortless habit for living a happier life is to take one or a few minutes every day to focus on what is already here and that you can be grateful for in your life."
 Henrik Edberg
Gratitude is November's Tending the Holy Thursday theme. Each month on my Thursday posts, I pick one theme (or person of faith) to explore in depth over several weeks.
This is the time of year many of us ponder what we are thankful for in life and generally live with an increased sense of gratitude.
Living a life of gratitude helps us find the positive side of life and reminds us what is really important. Seeing the world through the lens of thankfulness gives our lives more meaning, more appreciation, and more joy. Gratitude balances life by counteracting all the negatives the world throws at our souls.
Last November I created and shared a PDF of "50 Questions that Nurtures Gratitude in Life."  If you didn't request it last fall, you may enjoy receiving it now. Just click the button below for a FREE one-page PDF of the questions.
Click Here to Receive the Questions
"Gratitude is like a flashlight. If you go out into your yard at night and turn on a flashlight, you suddenly can see what's there. It was always there, but you couldn't see it in the dark."
Dawna Markova
The Powerful Practice of Gratitude
"When it comes to life the critical thing is whether you take things for granted or take them with gratitude."
G. K. Chesterton
We've explored how to practice gratitude in past posts here on Healthy Spirituality
I shared some ideas on focusing on gratitude in this post on World Gratitude Day.
And in this post about the life changing practice of gratitude.
But today I want to challenge you to explore the practice of gratitude by only doing one thing:
Write a thank you note to God.
This coming Friday is a Desert Day for me. This year I have intentionally mark my calendar for some extended time with the Lord for listening, prayer, journaling and just being with him.  I shared with you about Desert Days in the past.
Friday, I plan to write a long thank you note to God and I invite you to try this also.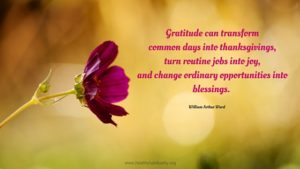 I know the physical act of picking up the pen and writing long hand brings creative ideas and new insights to my heart.  I have learned in my journaling and my writing that finding just the right word takes time, silence, space, and digging deep into my soul for its genuineness and wisdom.
I want this to be a personal heartfelt note of thanks to our creator. Each word birthed in prayer and inked with joy. As I am grateful for the gifts God has given me, may this be a small gift back to him.
I suspect God already knows what I will say and knows what is in my heart  – I'm the one who will be graced more than he in this process.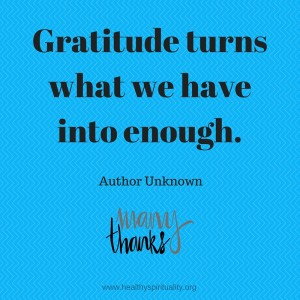 I will share next week my experience and again invite/challenge you to write a thank you note to God too.
One simple response to the Giver of all things.
A moment of thanks.
A simple way to practice gratitude.
Don't forget to download the free pdf "50 Questions that Nurtures Gratitude in Life." And as I am trying to grow my email list to get God's message out and to grow my writer platform, please share this post by clicking on the social media buttons. I appreciate your help in sharing Healthy Spirituality. Thanks so much!
  Click Here to Receive the Questions
Have you ever written a thank you note to God?  How do you express gratitude?