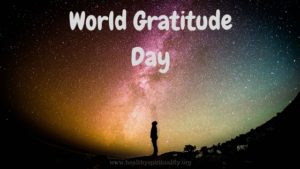 Living a life of gratitude makes us happier, optimistic and healthier in all the physical, mental, and spiritual dimensions of life. Research has shown that gratitude improved feelings of connection in times of loss or crises, increased self-esteem, heightened energy levels, strengthened heart, immune system, and decreased blood pressure, improved emotional and academic intelligence, expanded capacity for forgiveness, decreased stress, anxiety, depression and headaches, improved self-care and greater likelihood to exercise, and heightened spirituality as in the ability to see something bigger than ourselves
September 21 is World Gratitude Day. Ever hear of it?  I knew the month of November held a special emphasis for thankfulness, but didn't know about this worldwide day of recognition.
World Gratitude Day
World Gratitude Day officially started in 1977 by a United Nations group. Its purpose is to celebrate life, family, friends and all that we do and have.
What are you most grateful for?  What could you do this week to express this gratitude?
Ideas to Celebrate World Gratitude Day
Keep a gratitude journal – This powerful practice has changed people lives when they begin to write down things they are grateful for.  This simple habit changes our perspective, gives us hope and enables to seek and find good in life.  Try it right now: list five things you are thankful for!  Here is my list:  1. 

The sunshine outside my window.  2. My hardworking, reliable hubby. 3 How wonderful my kids have grown into as adults and the spouses they married.  Love them all.  4. Health – able to breath, move, and wake up every morning.   5.  That God is patient with me and all my quirks, missteps, and sin.

Practice Daily Examen – Once a day, review your day and find at least one item to thank God for from that day.  I often fall asleep at night, thanking God – no better way to enter sleep than in the cradle of gratitude, being rocked asleep with the hands of God.  The key is to notice, then behold all that we do have in life. See it all – the big stuff and the simple pleasures.
Do something for someone else – Ever notice when you are upset, discontent, or discouraged that when you help someone else, reach out to someone in need – it changes your perception of life completely and lifts your spirit? Serve someone today.
Simply say thank you more often. 
"If the only prayer you say in your life is 'thank you,' that would suffice."
— Meister Eckhart
Make a list of what you don't have that you can be grateful for:  no ants in the kitchen, how I can walk without pain (I have a back injury a number of years ago that made it difficult to walk for at least 6 months so am grateful walking now without pain), and no flat tires.    
Open your eyes and heart and consider what you can be thankful for that may not at first is obvious. I am thankful for my hubby's snoring at night – I have friends who have lost their husbands and would give almost anything to hear him breathing at night again.  I am grateful for when the internet works, the car starts up easily, the microwave heats my coffee up in less than 2 minutes, that I have work to do, a roof over my head, the sense of hearing to enjoy my grandkids' giggles, food in my refrig.
Gratitude is here presented as more than a feeling, a virtue, or an experience; gratitude emerges as an attitude we can freely choose in order to create a better life for ourselves and for others.
The Nigerian Hausa put it this way: 
Give thanks for a little and you will find a lot.
— David Steindl-Rast
Blessing or Burden?  I have a friend who has cancer, a cancer that will eventually kill him. He said to me once that he has having difficulty finding the blessing in the gift of cancer.  Gift of cancer?  Wow that really lingered with me.  We all get "gifts" in life we didn't ask for or want. Just this morning, though as I prayed for my friend, God gently told me: the lesson is what the gift tells me about God – That he is always with me, no matter what happens. That life is fragile and should be cherished. That God is so patient with me – the wait is worth it.  That I am a beloved child of God.
Gratitude is transformation. Practice it

even when you don't feel thankful,

especially when you don't feel thankful. Counting your blessings does work and we can cultivate an attitude of gratitude.  Interesting article here from Psychology Today about gratitude.  
Go a day without complaining, whining or being negative. Harder than you think. One Lent I gave up being sarcastic – and found out how deeply those types of words and thoughts dug into my being. I struggled to keep my mouth shut, but learned a valuable lesson.
[Tweet "Go a day without complaining, whining or being negative. Harder than you think."]
Find a trigger that reminds you to say thank you.  Every time you pick up a spoon, pass through a doorway, stop at a red light, pause and be thankful.  
To be grateful is to recognize the Love of God in everything He has given us — and He has given us everything.
Every breath we draw is a gift of His love, every moment of existence is a grace, for it brings with it immense graces from Him.
Gratitude therefore takes nothing for granted, is never unresponsive, is constantly awakening to new wonder and to praise of the goodness of God.
For the grateful person knows that God is good, not by hearsay but by experience.
And that is what makes all the difference.
— Thomas Merton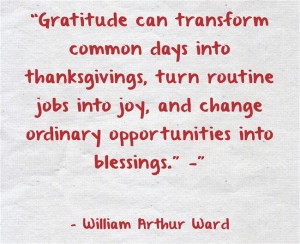 Last November I wrote a series of blog posts about gratitude that you might want to reread: 
The Life Changing Practice of Gratitude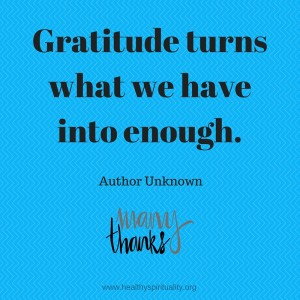 Also last November I created and shared a PDF of 50 Questions that Nurtures Gratitude in Life.  If you didn't request it last fall, you may enjoy receiving it now. Just click the button below for a FREE one-page PDF of the questions. And as I am trying to grow my email list to get God's message out and to grow my writer platform, please share this post by clicking on the social media buttons. I appreciate your help in sharing Healthy Spirituality. Thanks so much!
 Click Here to Receive the List
How do you express gratitude? What new way could you try this week to say thank you?