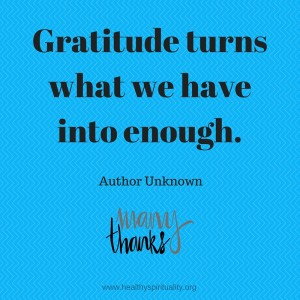 My experience with intentionally practicing gratitude has been transformational. This spiritual discipline helps me focus on what I have – not the vapor wishes I think I need.
Being thankful helps me step out of the way, thanking God for all things, not relying on my own self centered strength.  
Gratitude has taught me the fun in discovering hidden blessings, treasures I may have missed if I hadn't been paying attention.
Counting my blessings turns what my emotions blindly convey as a rotten day into "hey that wasn't so bad after all" type of reflection.
Thankfulness adds meaning to life, even in difficult times.
"Gratitude is not only the greatest of virtues, but the parent of all others."
Cicero
Pondering gratitude stirred my curiosity about why is gratitude as a spiritual practice so powerful? I spent most of the morning on Monday reading about the research behind gratitude. What I learned is amazing.
Research
Here is just a smidgen of the benefits of gratitude proven in research:
Gratitude makes you appreciate the value of something, and when you appreciate the value of something, you extract more benefits from it; you're less likely to take it for granted.

Studies found if you are grateful, you are less resentful towards someone who has something you don't have.

Gratitude helps you recover more quickly from stress, adversity and trauma by helping you interpret negative events. It has been found to give you a perspective to help guard against post-traumatic stress and lasting anxiety.

People who are grateful tend to be more helpful and empathic, more spiritual and religious, more forgiving, and less materialistic than others who are less predisposed to gratefulness.

Gratitude increases your sense of self-worth.

People who are thankful demonstrate on tests huge increases in their happiness scores.

Gratitude can improve relationships. Gratitude makes us nicer, more trusting, more social, and more appreciative. As a result, it helps us make more friends, deepen our existing relationships, and improve our marriage.

People who practice gratitude consistently report benefits such as stronger immune systems and lower blood pressure; higher levels of positive emotions; more joy, optimism, and happiness; act with more generosity and compassion; and feel less lonely and isolated.

Keeping a gratitude journal resulted in several studies in more and better quality of sleep.

Gratitude reduces feelings of envy, makes our memories happier, lets us experience good feelings, and helps us bounce back from stress.
What is Gratitude?
Different studies defined gratitude with various terms. Would be interesting to write out a definition for yourself – how do you define gratitude in your practice?
Explore words such as blessings, noticing, acknowledging, abundance, wonder. Is it learning to live each moment as a gift? Is it reframing our life into God's light and understanding? Is it living in the present moment and not taking things for granted?
Here are a few interesting sites to read more:
 31 Benefits about Gratitude you don't know about
How gratitude can change your life. 
Fascinating study about neuroscience of being grateful by mapping what is occurring in the brain. 
Reflections
All this reading about legitimate research confirms to me that gratitude is an essential and powerful tool to nourish us in our faith journey.
Being grateful is a choice with mighty benefits for the individual and the world.
I wonder how much hate, greed, and distrust would be overcome if there were more gratitude in the world. I can't change the whole world but can start with myself and those I touch.
I am impressed how the gratitude research shows all the benefits in so many holistic ways. It affects us on all levels. Not bad for a relatively simple, no cost tool available for all of us. Intentionally practicing gratitude seems like a no brainer to me.
I finished with research with hope, momentum to continue this important discipline and a deepening drive to savor the sacred and to discover the divine in the daily.
God gives the blessings and we give thanks for the blessings – a cycle of giving and thanks – true thanksgiving.
This is the day that the Lord has made; Let us rejoice and be glad in it.
Psalms 118: 24
How has practicing gratitude affected your life?
P. S. I created a PDF of 50 questions and prompts to promote thankfulness. If you want the list, just click the button below for a FREE one page PDF of the questions. And as I am trying to grow my email list to get God's message out and to grow my writer platform, please share this post by clicking on the social media buttons. I appreciate your help in sharing Healthy Spirituality. Thanks so much!