Blessings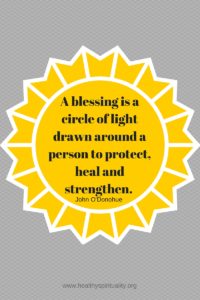 Blessings – we use this word all the time. 
"God bless you," we respond when someone sneezes.
"Bless your journey," – we might say as someone leaves our presence.
Blessings – a single word we could use to close our note or blog post comment.
We may even pray using the word "blessings," even with a little sarcasm.  "Lord, give me patience to endure these blessings."
But have you ever paused and thought about blessings. What does that word mean?  How can we intentionally use blessings as a spiritual practice?
What is a Blessing?
A blessing is a special prayer given from one person to another, as in sincerely wishing the best for somebody.  Another way of defining blessing is an unexpected, perhaps undeserved gift.  Or to give someone your blessing is to give them your permission, an approval to go ahead with their plan, such as when a young man asks his girlfriend's parents if he can marry their daughter. Blessing can be the words we say before a meal to express our thanks for the food before us.
Blessings give hope, encouragement, good will, thankfulness, and strength.
The word blessing in Latin come from benedicere, which means to speak well of. 
In Hebrew, blessings mean the idea of being strengthened by God's strength with its root word meaning "to kneel, praise and salute." 
"I will bless you … and you will be a blessing."
Genesis 12:2 NIV
******
A blessing is not something that one person gives another. A blessing is a moment of meeting, a certain kind of relationship in which both people involved remember and acknowledge their true nature and worth, and strengthen what is whole in one another. By making a place for wholeness within our relationships, we offer others the opportunity to be whole without shame and become a place of refuge from everything in them and around them that is not genuine. We enable people to remember who they are.
Rachel Naomi Remen
******
A blessing is not the function of a particular role. It is the natural expression of the fiery love and inclusiveness of our inner spirit. It is the manifestation of a soulfire, and each of us can be its hearth. To bless us is not the prerogative only of ministers, priests, and rabbis; it is not the exclusive domain of saints and holy people. It is a natural human ability, and anyone can do it.
David Spangler
I spent a week a couple of years ago learning and growing with the teaching of a wonderful Jewish rabbi.  She shared that in Judaism there is a blessing for just about everything. In the Talmud, the instructions are to recite 100 blessings throughout the day. Isn't that a wonderful practice – seeking and thanking for the blessings in our daily life.
It is forbidden to taste of the pleasures of this world without a blessing.
The Talmud
Building the Spiritual Practice of Blessing into Daily Life.
Think about the moments and people in your life.  All offer opportunities to offer a blessing.
Waking up – offer blessing for the day ahead and another day of life.

Getting ready – gratefulness for a hot shower and blessing on those without clean water. Blessings on the people who maintain the water system providing this resources so conveniently.

Those we love – imagine each one in the eyes of your heart, asking God to bless them

Meals – blessing for the farmers, people who transport food across many miles, those working in soup kitchens.

Strangers – blessings on the homes you pass as you drive or walk or the people you pass by on the streets.

Those you meet or talk with during the day – silently bless the person right in front of you.
The more you pay attention – the more you will see blessings throughout the day.
To give someone a blessing is the most significant affirmation we can offer.
Henri Nouwen
Blessings can be a powerful gift to give someone.  A kind word. A compliment. A smile.  All may be just the encouragement that person may need.
I wonder how families would be strengthened if a parent blessed their child everyday with special words and a hug.  How powerful the practice would be when that child returns the favor by blessing his/her parents.
I think we should use blessings more for each other during the transitions in life – a special blessing when learning of a pregnancy, a new job, retirement, or even a startling prognosis.  Blessings often are used for sending a person on a trip or new chapter in life – any threshold moment can be an opportunity for a blessing.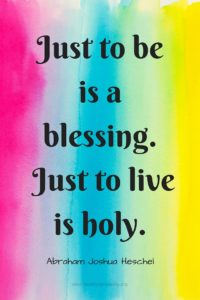 I have been writing blessings in my notes to others – intentionally creating a personalized prayer for that person and passing it.  If you don't feel you can write one on your own, use a common one like the well-known Irish blessings.  Here is one:
May your days be many and your troubles be few.
May all God's blessings descend upon you.
May peace be within you may your heart be strong.
May you find what you are seeking wherever you roam.
We are Blessed to be a Blessing
"The greatest blessing in the whole world is being a blessing."
Jack Hyles
Being a blessing to another person is a spiritual practice we all can partake in, no matter our health, finances or status. Pray for someone. Listen without interrupting. Leave the close to the store parking space empty and walk a bit further. Thank the pastor. Surprise a neighbor with an act of kindness. Give a little more.
"The thing to do, it seems to me, is to prepare yourself so you can be a rainbow in somebody else's cloud. Somebody who may not look like you. May not call God the same name you call God – if they call God at all. I may not dance your dances or speak your language. But be a blessing to somebody. That's what I think."
Maya Angelou
Pondering blessings helps me pause a second before I say automatically "God Bless You!" and know my words carry great meaning.
I plan to daily be intentional with this practice – one that can be done without boasting, cost or much time.
So bless you dear friends.  And remember if you can't sleep tonight, count your blessings instead of sheep.  

What does the word blessing mean to you? How do you use this practice?