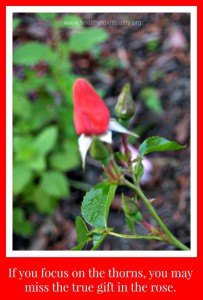 Bothersome irritations have blossomed into blessings for me lately. Little annoyances that I used to magnify have changed into things on my gratitude list. When I focused on the thorns, I missed the roses!
My hubby and I both have Fitbits (pedometers) so the amount we are walking has increased dramatically. As I walk I think, pray and generally wonder in my wanderings. While exercising, I climbed those mountains I built from tiny molehills and am learning to enjoy the view.
Here are few on my latest not so insightful awarenesses that led to praise and thanksgiving.
A few years back we woke up in the middle of the night with a loud thunderstorm raging outside. Unfortunately what aroused us was the dripping of water onto our bed as our roof leaked. The cost to repair the roof took our entire vacation fund. Let me tell you, I complained to everyone, yes everyone, about sacrificing my time away for a stupid roof. One day a good friend looked at me and said, "Poor Jeanie, she needed a roof over her head." Man, did that put me in my place. Instead of grumbling so much, I should have been grateful we had easy access to the amount of money we needed in a time of emergency. And that I had a safe dry place to live.
I spent lots of time spring-cleaning the last few weeks.

Nobody notices

. But IF I didn't clean they would see the neglect. Some how that just doesn't seem fair. (whine, whine) Yet I love the smell of the clean floors and the crystal clear view from the shiny windows. The cleaning gives me a sense of order and peace. I am grateful for a clean house when so many in the world are homeless or live in substandard housing.

As the sun sets and beams through my sparkling porch windows, I see them – tiny handprints left by my twin two year old grandsons. GRRRR – now I have to get everything out and scrub those windows a second time. The smudges on the windows brought back the joyful memory seeing them a few weeks ago peering out that window at the three bunnies in our front yard. I am so thankful for their health, their attention to God's nature and the love that swells in my heart whenever I think of them. No I didn't clean that window – I am leaving those handprints there to remind me of love and what really is important in life.

My hubby has lost weight as we exercise and miraculously, his incessant and loud snoring has improved. BUT the other night as allergy season resumed, so did the return of the nightly noisemaker. I lay there listening to the rhythm of his breathing so grateful he was breathing. You see I have several friends my age whose spouses have died – so young, too young – I bet they would give anything to hear their loved one lying next to them breathing – snoring or not. Thank you Lord for his snoring, his life, and for the time I have had with him.
I am trying to pay attention to my self-talk, my whininess and criticalness. Lessons emerge with my growing awareness of how my thoughts affect my attitude. Like uncut dirty diamonds, the irritations in life hold value. If I listen, their worth becomes priceless messages. Bothersome blessings enliven my journey and provide a light for my path.
 How have irritations taught you something about life?