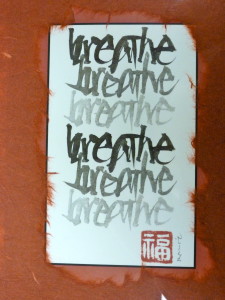 "He breathed on them and said to them "Receive the Holy Spirit."
John 20: 22
Breathe on me, Lord.
I need your sacred sigh into my soul.
I am nothing without your air, your Holy Spirit.
Your breath instills life within me. Your breath sustains me.
All I can do, must do, is open and receive.
Never seen, but always present, the Holy Breath of God.
I inhale and your spirit swirls down into my lungs, awakening my every cell.
Even when I give back to you in exhale, my gift is composed mainly of you, with a little waste from me.
We became living beings by your breath.
We become pure, holy and loving by your breath.
We become more Christlike by your breath.
Sharing your breath brings me so close, so intimate, so fused, we become one.
May my every breath praise you, Lord.