Let everything that has breath praise the Lord. Praise the LORD.
Psalm 150:6
Have you heard of "
Breath Prayers
?"
Breath prayers are short prayers said in one breath. Simple, repetitive and surprisingly ancient. The breath prayer generally involves quietly repeating a chosen phrase for several minutes, allowing the prayer to take on the shape of one's breathing so that the words accompany every breath.
Examples of common breath prayers are "In you, Lord, I put my trust," "Help me understand your ways, Lord,"  "Lord I am yours," and "My Lord and my God." The idea is to pick a meaningful phrase and repeat it until it becomes a part of your being.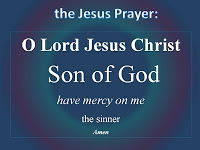 Perhaps the most famous breath prayer is the Jesus Prayer. This prayer goes like this: "Lord Jesus Christ" (while breathing in), "have mercy on me, a sinner" (while breathing out). This is done repeatedly until all is stilled within your heart.
In the 19
th
century, an unknown Russian peasant told the story of his search to learn to pray without ceasing in the book,
The Way of the Pilgrim.

Once he learned the Jesus Prayer, he prayed it continuously until the words becomes such a part of him he was in prayer whether awake or asleep.
The Jesus Prayer grew out of
Luke 18:13
. Prayers that use breathing this way probably go far back in history, with early breath-prayers based on the refrains of the Psalms. They are brief, simple expressions of the longings of the heart.
Breath prayers can be helpful when you just don't know what to pray, like in times of spiritual dryness or difficulties. This prayer expresses dependence and trust in God that often produces a calm and a sense of nearness to the Lord.
"Prayer does not mean simply to pour out one's heart. It means rather to find the way to God and to speak with him, whether the heart is full or empty."  Dietrich Bonhoeffer
Wouldn't it be delightful to be in prayer as intimately and regularly as breathing? What is your favorite breath prayer and how has it helped you?