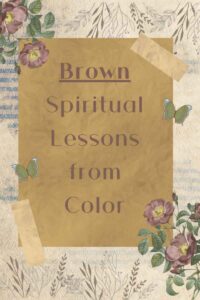 Brown – not my favorite color.
In fact, I am not sure how much I pay attention to this hue. Brown? It's okay. Neutral. More of a background. Not exciting.
The trees this fall in Ohio blazed with reds, oranges, yellows. And the colors lasted much longer than usual – energizing me with God's paints.
But last week I noticed the chopped, harvested cornfields, surrounded by skeletons of bare trees against a dull gray cloudy sky. Ugh. Brown.
Paying attention to what not only brings joy to our hearts but also what jars our spirit is a key spiritual practice for us. Lord, you want me to "see" that ugly boring brown? Are you teaching me something from this ordinary, uninspiring color?
I pulled the car over onto a side road and studied that scene.
Discovering Beauty with a Closer Look
My favorite color is blue. I also lean towards greens. Splashes of yellow brighten my mood and red fires my spirit. But brown? I had to stop and look closely to find its beauty. In waiting, the various hues emerged as an earthy, natural palette.
Slowly brown revealed her before-not-seen gifts.
Brown reminded me of sturdy tree trunks and nourishing and protecting soil. I smiled, remembering the brown speckled sparrows at my backyard feeder. Painting my walls in shades of beige add warmth and comfort to my home. With heat and time, brown sugar caramelizes into a yummy treat.
I began to realize that brown isn't a dead, boring color. Brown tells a story of strength, perseverance, and stability in uncertainty. Like an optimistic friend, brown adds wisdom, companionship, and hope to a relationship.
When I looked beyond my first impression of the barren field, I recognized God's creativity in all seasons. That trip into the country grounded my swirling spirit and settled my soul with peace. Brown fallow ground wrapped its comforting arms around me that day.
I am rereading Marcina Wiederkehr's book, Seasons of your Heart, and just this morning read this poem. The timing of reading her words makes me smile as God's wonderful gift of sending us just the right wisdom when we need it.  
The Sacrament of Letting Go
by Macrina Wiederkehr

"Slowly
She celebrated the sacrament of
Letting Go…
First she surrendered her Green
Then the Orange, yellow, and Red…
Finally she let go of her Brown…
Shedding her last leaf
She stood empty and silent, stripped bare
Leaning against the sky she began her vigil of trust.

"Shedding her last leaf
She watched its journey to the ground…
She stood in silence,
Wearing the color of emptiness
Her branches wondering:
How do you give shade, with so much gone?

"And then, the sacrament of waiting began
The sunrise and sunset watched with
Tenderness, clothing her with silhouettes
They kept her hope alive.
They helped her understand that
her vulnerability
her dependence and need
her emptiness
her readiness to receive
were giving her a new kind of beauty.
Every morning and every evening she stood in silence and celebrated
the sacrament of waiting."
Thank you, God, for waking me up once again to your magnificent ordinary. Thank you for opening my eyes to new beauty. Thank you for brown.
What does brown say to you?