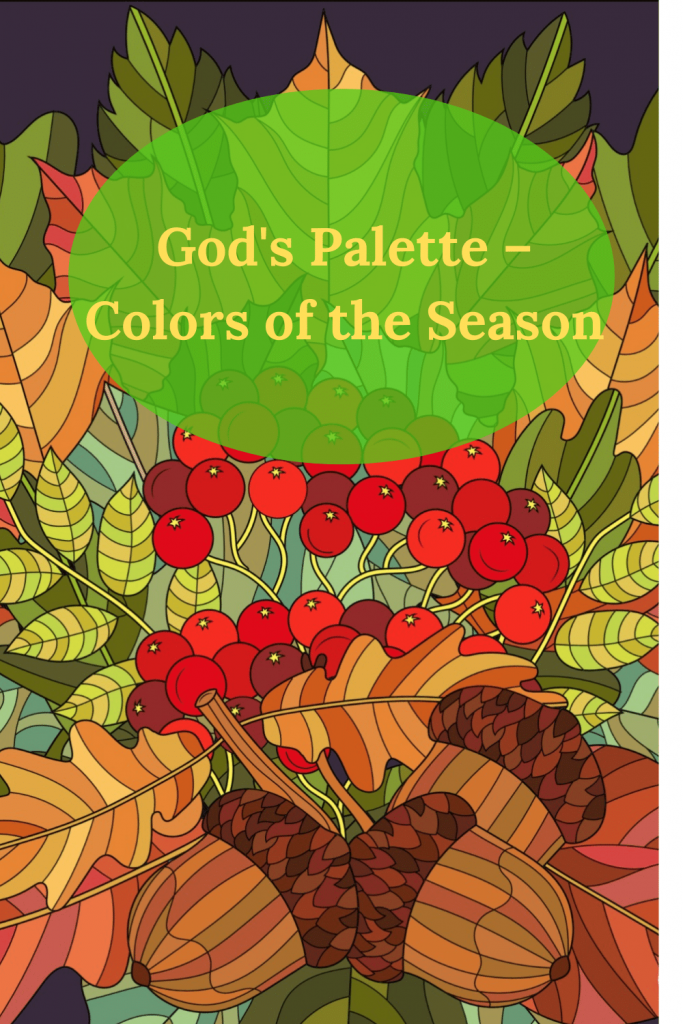 God's palette of brilliant colors ignited the trees in northwest Ohio this month.  Autumn exhibits meaningful messages if we pay attention to her music.
"Of the four seasons, autumn is by far the most paradoxical. Wedged between an equinox and a solstice, it moors us to cosmic rhythms of deep time and at the same time envelops us in the palpable immediacy of its warm afternoon breeze, its evening chill, its unmistakable scentscape. It is a season considered temperate, but one often tempestuous in its sudden storms and ecstatic echoes of summer heat. We call it "fall" with the wistfulness of loss as we watch leaves and ripe fruit drop to the ground, but it is also the season of abundance, of labor coming to fruition in harvest. "  Maria Popova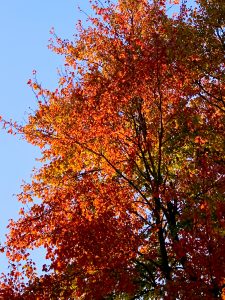 I gaze at trees gathered together like patchwork quilts across auburn fields of corn, showcasing their pigmented performance. They blend together in a murmuration of color.
God's palette contains some colors that on their own are not first choices for many of us. My eyes naturally gravitate to blues and greens. Yet God picked each hue for its gift and as the Master Artist, he creates colorful combinations.
"Rich colours actually look more luminous on a grey day, because they are seen against a somber background and seem to be burning with a lustre of their own. Against a dark sky all flowers look like fireworks"– G. K. Chesterton
If you take the colors of autumn individually, they don't rate high as favorites of mine:
Oranges – yawn
Browns – dreary
Yellows – though I love the brightness of yellow, it is not the best color for my fair/blonde complexion
Reds – I do like the aliveness of red; just not a favorite color.
Individually these colors are not very exciting to my soul. But they cry out "See us as one."
Diverse, yet the beauty emerges when seen collectively. Each one highlights another. A good reminder – instead of focusing on dissimilarities of others we engage with, behold their beauty as one. We are all children of God – one in him. One in one.
Reminds me that the singular taste of plain flour, bitterness of baking soda, and briny taste of salt when mixed with other flavors creates delicious, mouth-watering delights.
"Too often, we miss the obvious: beauty is meant to enable us to transcend the mundane, to escape the frivolous, to save us from the toxicity of the cheap and tawdry. Because of beauty, we may begin to see that the purpose of life is to make beauty possible. Beauty brings peace to the soul and satisfaction to the heart. It saves us from the stress that cacophony brings.
To be enriched by beauty is to have within us the sight of life that will never go away, that will never leave us empty. It is the sight of one single sunset that brings layers of life to every sunset thereafter. When we begin to recognize beauty, to see it all around us, it has done its work on us. Steeped in beauty, we have become beautiful ourselves. We are calm now, uplifted, enriched by the world around us, deepened in our sensitivities, our vision of the world more finely honed. We become the beauty we have come to see everywhere." Joan Chittister
Trees also invite me to remember to let go.
"Each season of fall reminds us again of Jesus' invitation to us to an autumnal experience of letting go and of dying – if we want to truly live and be filled with the fullness of God." Br. Geoffrey Tristram
Especially with the year we have endured: I know I need to surrender my poor attitude adopting gratitude and grace as the lenses to view 2020.
I have loved the colors this fall and as you can read, got my heart musing about this miracle that shows us God's creativity, imagination, and presence.
How about you? What does God's palette of colors each fall show you about God?