Patty Wysong has created a fun meme where once a week bloggers posted on the letter of the week. Check out the details here.

 

It is called A2Z: Take 2. A2Z as she challenges bloggers to write a post each week going through the alphabet.

 

Take 2 since this is the second time she has used this meme. Anyone can join in and you don't have to always participate.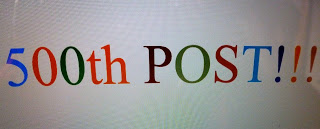 What does the letter D bring to my mind and heart?
Don't you love coincidences or what many of us call them God-incidents?
The letter D symbolizes the Roman numeral 500.
Participating with Patty Wysong's meme and writing a blog once a week based on a letter of the alphabet has been fun for me and I hope for you. This week is the letter "D" and as I began to think about that letter, I was amazed to realize that this would be my 500th post on this blog.
500 = D
Now that is a God-incident!
The number "500" has other meanings also.
I read that the number 500 is used 27 times in the Bible.
This number represents infinity to the Irish and a world known race to Indy 500 fans.
There is the Fortune 500 and the card game 500.
The legend of the mythical bird, the Phoenix, says the bird lives a 500-year life cycle. Near its end, this colorful bird builds a new nest and both the nest and the bird erupts in flames. Out of the ashes a new bird is born.
I am not sure I want THAT to happen to this blog after I hit publish – to have it burn up in flames! HA!
I don't believe much in the power of numbers, after all 500 is just one more than 499 and can amount to nothing more the amount of sheets in a ream of paper.
But pausing at this level does invoke gratitude in my heart. Thankfulness for you – coming along side me, reading these words, and taking time to walk with me on our journeys. You are my traveling companions.
And thankfulness to our Lord – for His creative ideas, His words, and His guidance on our paths. God also travels with us.
I started this blog in February 2009. To celebrate my 500
th
post I will repost my very first entry as I hope from the beginning to the whenever the last post will be published that my words glorify God and nurture you closer to Him.
Thank you for accompanying me on my journey!
 

" A healthy person works out every day to keep the body in shape . . .but a spiritually healthy person kneels in prayer to keep the soul in shape.
   Healthy people have faith, hope, and love that they are strong enough for the journey . . . but spiritual healthy people have faith, hope and love that it is in the journey that they will become strong.
Welcome to Healthy Spirituality. My hope for this blog is that the words nurture you closer to God and help you discover his wonder and his unconditional love he has for you.
Healthy spirituality can be defined in many different ways. For me and this blog, it is the sense of wholeness only possible through a relationship with God. We are never complete without him and He continually pursues us to draw us back to him.
The foundation of spiritual health always is in prayer – listening and talking with God. Another component is paying attention to and learning God's word. Studying the stories God gave us in the Bible and most importantly, studying the life of His son, Jesus, gives us guidance and discernment on our walk in life.
And we can't forget our own story. I believe God has planted deep within our soul, a story, our core essence, created by Him, unique only to us. Our journey on earth as humans is to discover and sing that song God has placed within us.
     "We had thought that we were human beings making a spiritual journey; it may be truer to say that we are spiritual beings making a human journey.' (Teilhard deChardin)"