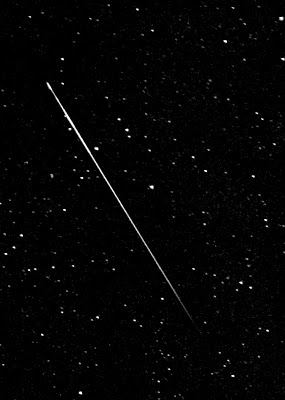 AND this is the time of year the annual Perseid Meteor shower streaks across the nighttime sky. I am like a kid at Christmas time, giddy with anticipation.
    I am a constellation geek. On these nights I quietly get up in the middle of night and slowly make my way out to our backyard deck to watch God's magical performance as he bounces delightful sprigs of light between the
Big Dipper
and
Orion's Belt
. Just love it!
Saturday night
  I ventured outside twice. I delighted in the array of zooming lights whizzing above me. No wait, they aren't meteors; I was watching fireflies. How foolish I felt. Oh well, I will wait a little longer. Then a little more time went by. YAWN. When I finally gave up the number of meteors I observed? Zero. Zilch. Nada
I was bummed!
Sunday night
I peeked out several times late in the evening. Too much light yet for a good view so decided another middle of the night trip would be necessary to get my annual fix of shooting stars. Yep, my internal clock (and full bladder) woke me about 1 a.m. Out to the backyard with high hopes.
Within minutes I saw them. Meteors? No. A fast moving bank of clouds approaching from the west masking the early morning performance I longed to see.
Number of meteors seen?  Zero. Zilch. Nada.
Last night
Well I am writing this late evening with the hopes of still seeing my friends dance across the sky tonight. As of now, it is cloudy. We are under a thunderstorm warning. The odds are not in my favor. My third night may result in more zeroes, zilches and nadas.
Sigh. I am disappointed.
So tonight I pondered this frustration. Why did I feel this way about such a silly event? I am ashamed to admit probably because not seeing my loved meteors remind me I am not in control.
There is nothing I can do about making them appear at my command, just when I want them to.
I can't part the clouds like a stage curtain on cue.
All the whining and wishing and praying won't make a difference.
Yet the meteors did appear. They dashed across the sky during the daytime when human eyes couldn't see them. They continued to sprint at night even though clouds blocked my view. They were there as promised. I just couldn't see.
Last Sunday the lectionary highlighted verses of faith.
In Hebrews 11, Paul told about Abraham being called to a new place and "he set out not knowing where he was going." He also defines faith in these verses as "the assurance of things hoped for, the conviction of things not seen."
In Luke 12, Jesus said, "Do not be afraid, little flock for it is your Father's good pleasure to give you the kingdom."
Not seeing the meteors reminded me about faith.
Faith to follow God even when I am not sure where he is leading.
Faith to know He is the Creator of all, even stars and meteors.
Faith to trust a little deeper God's promises.
Faith not to live in fear, but in hope.
We can't predict or control the future. It is possible I may never see a shooting star again while on earth. But I can hope. I can be thankful for God's delightful creation. I can hold onto assurances of blessings not seen or even imagined.
And even if I can't see, I will trust in God's promises – a celestial show I can count on.
What has deepened your faith lately?