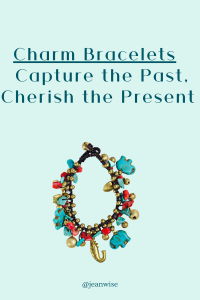 Charm bracelets – did it wear one in high school?
A few weeks ago, a good friend (Thanks, Mary Ann) showed her high school charm bracelet on Facebook and asked if anyone else wore one like hers when we were younger.  The response was so fun and brought back many memories.
So I looked. I pulled out the step stool to reach that high shelf in the closet where the old jewelry box rested covered with dust. Nostalgia descended upon my soul as I sort and sifted through classic pieces from my mom and from my life many moons ago. Old pins. Nameplates from first jobs. Not working watches worn by an elderly long gone saint who still lives in my heart.
Finally, I found it and slowly touched each captured moment from my teen years.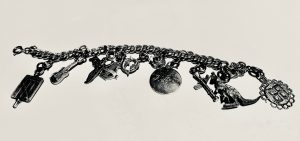 Capturing the Past
What is or would be on your childhood charm bracelet? Not only is this fun but also remind us of our roots and early experiences that formed our souls. Come on, let's share. Even men could at least imagine what symbolized their past.
For me?
Music symbols – a guitar and band emblem. Why don't I listen to much music anymore?
Trip memories – New Orleans, Washington DC, Florida. Traveling continues to be a passion
Pen and Quill – an image carrying the hints of my deep desire to be a writer
Cherishing the Present
I don't wear a charm bracelet now; in fact, I don't wear much jewelry at all. I guess some people are into the expensive Pandora charms. I googled charm bracelets and was surprised to find them still in style and available.
But this journey into the past stirred my imagination to wonder what if? What if I had a charm bracelet today, what would be its trinkets? What fun to imagine this.
Pen
An opened book
Computer
Calendar
Candle
Cross
Heart for family and friend
Airplane, car, or cruise ship
Tree of life – my spiritual symbol
Butterfly, bird, or dragon fly
How do you cherish the present? Charm bracelets would be one way. I savor moments in my words through journaling and writing. Maybe you paint or sketch?
I love photography. Photo albums fill up another closet in my house. Take a moment and scroll through your photo app on your phone. Amazing memories leap into our minds.
How do you capture the present?
Future Charm Bracelets
I wonder what future charms wait to be discovered and explored. The pen, writing, and travel cultivated deep roots throughout my life. Yet unknown areas may blossom in fresh seasons. God does love to surprise us with new adventures if we are willing to go.
Revisiting an archaic piece of jewelry reminded me of the preciousness of the past and the pricelessness of the present. I rush through life, getting things done, nose to the grindstone, preoccupied with distractions and busyness and miss God's richness captured in moments of grace all around us.
I am grateful Mary Ann invited me to stop, savor, and sample life. And life tasted delicious and delightful.
What was or would be on your charm bracelet?