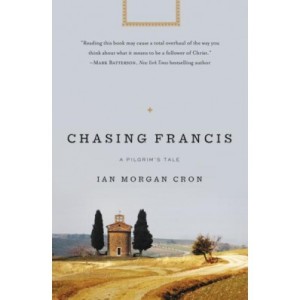 I am a non-fiction book fanatic. Rarely do I read fiction but just finished and really liked a unique novel called Chasing Francis – A Pilgrim's Tale by Ina Morgan Cron.
This is a story about a minister who faces a faith crisis, questioning everything he had promoted and believed. Taking a leave of absence he visits his cousin who is a Franciscan monk in Italy and embarks on a life changing pilgrimage.
The history of St Francis and the basic beliefs of that order is woven into the main character's search for answers. What a unique way to introduce readers to St Francis and to showcase his relevance for Christians today.
Though the story obviously moves in such a way to give the reader all of the foundational information, it also gives us challenges to consider St Francis relevance in the 21st century church. Towards the end of the book, the main characters says,
When I left here, I wasn't sure what a Christian looked like anymore. My idea of what it meant to follow Jesus had run out of gas. I started feeling less like a pastor and more like a salesman of a consumerized Jesus I didn't believe in. Learning about Francis helped me fall in love with Jesus again – and with the church again, too."
I wrote down several quotes in my journal from this book, some written by the author but many from other historical Christian figures. I want to pray and ponder those words. For example, he quotes Evelyn Underhill –
Mystics know that possessions dissipate the energy which they need for other and more real things; that they must give up ownership, the verb 'to have.' If they are to attain the freedom which they seek, and the fullness of the verb 'to be."
Ouch! I have a loooooong way to go with that!
I enjoy books that challenge and entertain and Chasing Francis satisfied both of these yearnings for me. I think it was also good for me to read something outside of my normal genres too.
What book, outside of your typical or favorite genre, have you read lately?