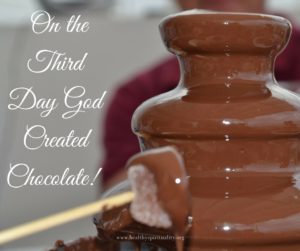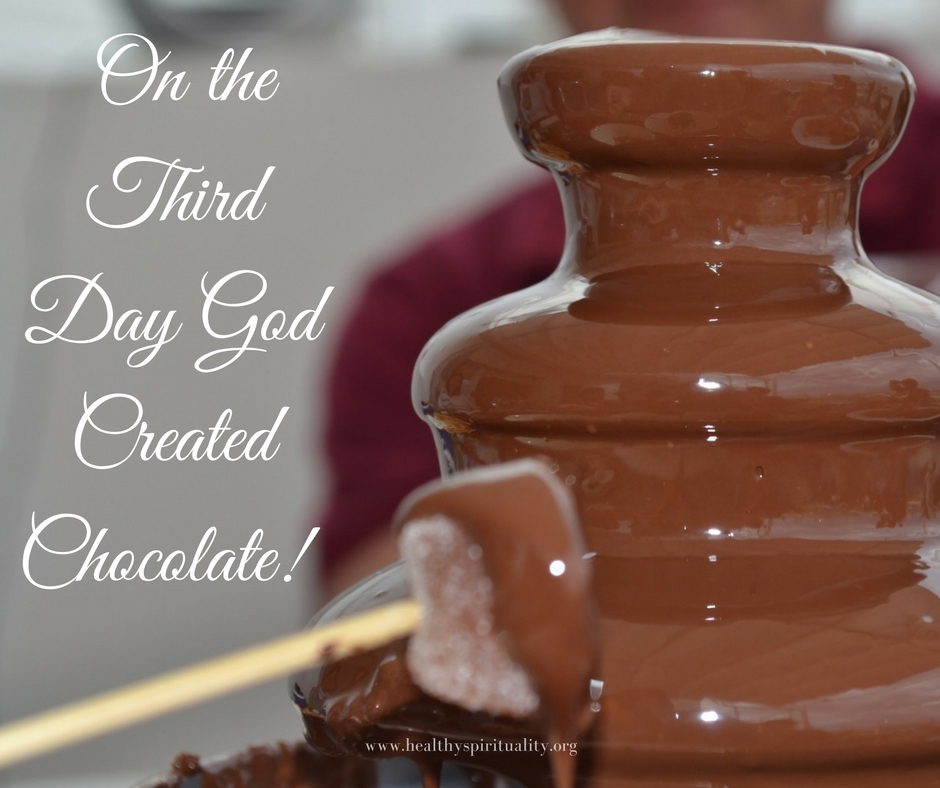 I thank you, God, Creator of all things, for so much, but today I thank you for chocolate!
Today on some calendars in International Chocolate Day.  Once I began researching this for today's blog, though, I discover July 7 is also celebrated as this special observance.  So why not twice a year enjoy one of the best taste on earth that God has given us.  Let's take this a bit farther – let's party with a little sweetness every day!
"What I Learned about God from Chocolate" is THE most popular talk I am asked to give when I speak to gatherings and retreats. In honor of this yummy indulgence, I thought I would share some fun facts and wise insights about this special treat.
 In the creation story, on the third day God separates the water and made the dry ground appear. Then all the vegetation began to grow.  One of those plants was the cocoa and the cacao tree and that, my friends, is the chocolate plant!

The scientific name for chocolate is Theobroma cacao which translates "Food of the God."  The Aztecs and Mayas believed the cacao tree was a gift from God and served as a metaphorical bridge between earth and heaven.

One lesson God continues to teach me is that things take time. Chocolate also gives that message: Cacao trees start as seedlings and are very delicate needing shade and care. Often they grow under a taller tree for shade and protection and take 3-5 years before producing the flowers that become cocoa pods. It takes almost a full year for a cocoa tree to produce enough pods to make 10 standard-sized Hershey bars.  Life is a process that takes time to develop and unfold. Often we bloom better under the shade of others who protect and nurture us. 

Chocolate contains more than 600 flavor compounds in comparison to wine which has 200. This reminds me that chocolate is a very complex, much more that we realize. Someone created this delicacy; this is much more than just some accidental product of evolution.

A 2013 study found that the scent of chocolate in a bookstore made customers 40% more likely to buy cookbooks or romance novels, and 22% more likely to buy books of any genre.  At Walt Disney World, its aroma is propelled onto Main Street in front of their candy store. Chocolate draws us in and produces in our brains the chemical reaction similar with when we are in love. Chocolate reminds me that God is in all things and God is always love.

Chocolate is the only edible substance to melt around 93° F, just below the human body temperature. That's why it melts so easily on your tongue.  I don't think that is coincidence.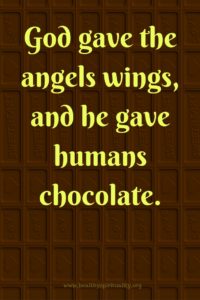 If we wake up to the present and pay attention, we experience God's presence, lessons, and love all around us, even in something as common and simple as chocolate.
"I asked God for all things that I might enjoy life.
He gave me life that I might enjoy all things."
Unknown Civil War Soldier
What can chocolate teach you about God?  What lessons are you learning from simple every day items?
 I sure do appreciate those who email me or comment here. I love having discussions about each post and building a sense of spirit here at Healthy Spirituality,  Let's get to know each other better  – Leave a comment. Connect on social media.