English: photo of Catrien Eagles's pet cat called Tigger. (Photo credit: Wikipedia)
"I worry about your little girl," said the tall gray haired lady. "She always looks so solemn."
I don't know why that day my facial appearance was serious and sober, but I heard that comment more than once in my life. 
To be honest I was not born optimistic. That line will surprise people who know me now.
Yep, I am a natural Eoyore, not a Tigger. As an adult I have consciously decided to live with a positive attitude. I choose hope.
Hope is the thing with feathers that perches in the soul.
- Emily Dickinson

The glass isn't just half full or half empty. Even if the glass only holds half of its volume with fluid, the brim is topped off with precious life-giving air.  I like to think that space is chocked-full of the Spirit. I hold a full cup each day since God fills in whatever is missing.
So now I am that cockeyed optimist we sing about in music.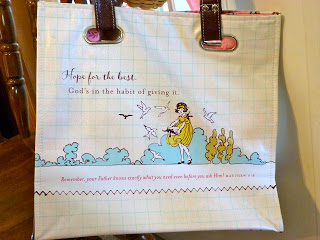 That is why I really enjoyed receiving these totes from Dayspring Inspired Deals a few weeks ago. This month Dayspring has their amazing tote bags Buy 2 and Get the 3rd FREE.  You can check out their great collection

HERE

.   
I do need to let you know I received these tote bags in exchange for an honest review. And I am being honest when I tell you the quality of these bags are great. The Hope bag is made of durable oilcloth material and easily wipes clean, is water resistant and has this great hidden magnetic snap closure.
But the message is even greater. 
My favorite bag has this message: 
Hope for the best. God's in the habit of giving it.
Remember, your Father knows exactly what you need even before you ask Him!
They even surprised me by sending a second bag. I plan of giving it to my daughter as she is taking the kids to the library this summer and will have lots of books to tote. I love it that she seriously passes on the value and love of reading to my grandkids.  Meet my three year old granddaughter holding her new bag.  

So this Eoyore-transformed -into-Tigger optimist holds hope this week.
Hope as a message on a great tote bag and hope in my heart from a generous encouraging God.
What gives you hope this week?