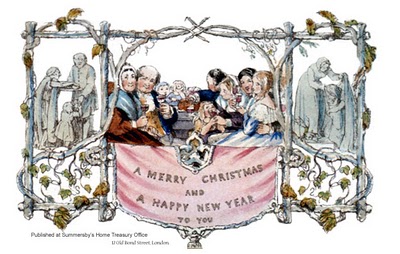 My hand cramps and I grow tired of repeating the same message. I refuse to cave into creating a form letter, so I still handwrite Christmas greeting cards. What have I learned about his holiday ritual?
My attitude determines how this practice either blesses me or drags me into the hole of too much to do during the holidays.
So each year I try to organize early and write about ten cards a day. The key ingredient is prayer. As I begin the card, I pray for the recipient and then seal it with prayer also. Calming balm for my attitude and I hope healing comfort for my friends.
The First Christmas Card
One story about the origin of Christmas Card, which originated in England over 150 years ago, tells that Sir Henry Cole wanted to send greeting to those he knew for the purpose of encouraging his friends to help the destitute during this holiday. He commissioned John Calcott Horesley to paint the first commercial Christmas card showing the feeding and clothing of the poor. 
The initial reaction to the distribution of Christmas cards was not very favorable. Some critics claimed Horsley's card was too secular, and accused him of encouraging intemperance and alcoholism. Others criticized the idea of cards as a foolish extravagance. (Some still think that today)
I laughed when I read that legend has it Cole didn't send any cards the following year, but the custom started anyway. The photo on today's post shows that first card. Note the young child is also drinking wine – a controversial statement for sure and maybe why Cole quit sending cards.
Ha!
Christmas Card Trivia

·

     
Nearly 2 billion Christmas cards are sold in the U.S. each year
·

     
Cards were sent by 85% of Americans in 2006. Hallmark estimates that 1.5 billion paper cards will be sent this year. Sounds like a lot, but actually this is a decrease from previous years' numbers of 2 billion.
·

     
President Eisenhower issued the first official White House Christmas card in 1953. By the year 1961, the White House was sending out 2000 cards. By 2005, that number had risen to over 1.4 million.
·

     
For every three holiday cards purchased and sent, one has a religious message.
·

     
The 1950s introduced humor. Santa was pictured as a couch potato watching television on one card. On a card whose message was "Peace on Earth," Santa had nuclear missiles over his head.
·

     
An average household in America will mail out 28 Christmas cards each year and see 28 eight cards return in their place
·

     
Victorian Christmas cards were considerably more elaborate than today's, often adorned with layers of lace, silk fringes, tassels, ribbons, dried flowers, satin, or mother of pearl. Some were glass frosted. One surviving Victorian card consisted of 750 pieces of material stitched together.
·

     
Christmas beats Valentine's Day as the biggest card-sending holiday.
·

     
The use of e-mailed cards of all kinds — marking birthdays, Mother's Day and other events increased 23 percent in 2006 and is expected to grow more each year.
The Most Expensive Christmas Card
The answer to this question takes us back to our history story. The most expensive Christmas card was one of the original Sir Henry Cole cards. It sold at an auction in the UK in 2001 for the equivalent of 40,000 U. S. dollars.
Blessing or Chore?
Christmas cards – a chore or a blessing? Call me old fashioned and traditional, but this is a holiday ritual I still like to do. With prayer sweetening my attitude and warm thoughts of friends and family this time of year – taking the time and making the effort for this annual mailing adds joy to the season.
Do you send cards? If so, why do you do this each year?