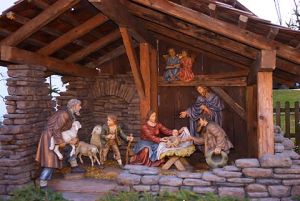 Did you ever stop to consider who actually delivered Jesus when he was born?
This year during Advent I have been slowly rereading the story of Christ's birth, relooking at some of the characters and listening for new lessons. Many of you know I am an RN and the nurse in me became a bit puzzled, curious and more than a little interested thinking about the actual childbirth scene in Bethlehem that night.
We really don't know the technicalities of Jesus' birth but this nurse wondered.
Who delivered Jesus?
Mary was young. This was her first baby. She went into labor away from her home. Bethlehem at that time was quite small – I read some sources saying maybe 200 or 500 people lived there. Who helped her?
Perhaps Joseph. After all he was present and tenderly cared for Mary. But men usually didn't assist with childbirth.
Perhaps some other unnamed female traveler provided aid.
Perhaps a local midwife.
I did read that our perception of the manger scene is unrealistic and shaded by artists and childhood books we've read. Mary and Joseph probably arrived in Bethlehem earlier in her pregnancy and stayed there with relatives in that crowded village.
The relative's homes were full with everyone showing up for the census. They could easily have been moved into an outside guest room or a cave nearby. Often families would bring in their animals into these spare rooms to protect them from the cold nighttime air. Many biblical researchers now believe that Mary and Joseph were in a home or cave divided into two parts: one the family quarters which is sometime call an "inn" and the animal quarter below or to the side where a feeding trough could have been used as the well known manger.
My nurse's imagination leapt to life thinking about this aspect of the Christmas story. But it is speculative. 
We do know Jesus, the Messiah, was born in Bethlehem.
And I do believe God watched over Mary and Joseph and send them assistants and perhaps a host of angelic midwives. Both as an OB nurse and a mother myself, I believe angels are always present at the birth of a baby.
I do know God watches over you and me and what is being birth within us right now.
And I believe that God sends us assistants and perhaps a host of angelic midwives to help in the delivery those new possibilities in our lives.
New life – no matter how delivered or who helps the process – is always gift from God.
What new aspects of the Christmas story have you noticed this year?