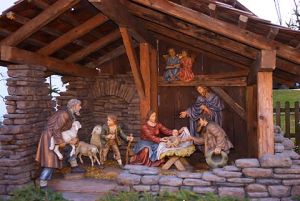 Zachariah is one of the Christmas characters we often don't deliberately ponder this season. I thought this year I would slowly read the story of Christ's birth, relook at some of the characters and listen for new lessons. Zachariah invited me in to sit with him for a while.
I reread his story from Luke. I remembered he served as a priest, was married to Elizabeth, was the father, late in his life, of John the Baptist, and when he doubted Gabriel's message about the coming baby, he became mute until John was born.
6 Both of them were righteous before God, living blamelessly according to all the commandments and regulations of the Lord. 7 But they had no children, because Elizabeth was barren, and both were getting on in years.
8 Once when he was serving as priest before God and his section was on duty,
9 he was chosen by lot, according to the custom of the priesthood, to enter the sanctuary of the Lord and offer incense.
10 Now at the time of the incense offering, the whole assembly of the people was praying outside.
11 Then there appeared to him an angel of the Lord, standing at the right side of the altar of incense.
12 When Zechariah saw him, he was terrified; and fear overwhelmed him.
13 But the angel said to him, "Do not be afraid, Zechariah, for your prayer has been heard. Your wife Elizabeth will bear you a son, and you will name him John.
14 You will have joy and gladness, and many will rejoice at his birth,
15 for he will be great in the sight of the Lord. He must never drink wine or strong drink; even before his birth he will be filled with the Holy Spirit.
16 He will turn many of the people of Israel to the Lord their God.
17 With the spirit and power of Elijah he will go before him, to turn the hearts of parents to their children, and the disobedient to the wisdom of the righteous, to make ready a people prepared for the Lord."
18 Zechariah said to the angel, "How will I know that this is so? For I am an old man, and my wife is getting on in years."
19 The angel replied, "I am Gabriel. I stand in the presence of God, and I have been sent to speak to you and to bring you this good news.
20 But now, because you did not believe my words, which will be fulfilled in their time, you will become mute, unable to speak, until the day these things occur."
21 Meanwhile the people were waiting for Zechariah, and wondered at his delay in the sanctuary.
22 When he did come out, he could not speak to them, and they realized that he had seen a vision in the sanctuary. He kept motioning to them and remained unable to speak.
23 When his time of service was ended, he went to his home.
Luke 1: 6-23
Several verses struck me this year.
Verse 6 pointed out to me that both Elizabeth and Zachariah were "righteous before God, living blamelessly according to all the commandments and regulations of the Lord."
Then I read in verse 8 that when the angel came to visit, Zachariah was on duty. Just doing his job.
Ahhh – Zachariah was a worker, that behind the scenes worker we all know. The ones you can always count on to decorate the church when everyone else goes home, to help with funeral meals, to attend Wednesday night for Advent services.
These loyal and devoted workers who don't get the applause, the cheers, the recognition. Yet they do what they know is right and show up.
They are the dutiful, the reliable, the faithful, the diligent.
Talk about being diligent, did you hear that last verse? Zachariah just experienced a life changing visit from an angel, he heard the great news about answered prayer, he become mute but this verse states:  "When his time of service was ended, he went to his home." Catch that? He finished up his work, completed his shift, tidying up the office, before going home to somehow communicate with Elizabeth their lives were about to be transformed. Wow!
Many of us work and give and show up often wondering if we are getting anywhere. If our energy could be put to better use.
It is hard to keep going without seeing the results. We face discouragement, possible ridicule and we muck through lots of doubt in life.
We do what is right even when we don't feel like it. We are kind when we would rather walk away. We chose compassion over hate. We stay involved when it gets hard and then even go that extra mile. We forgive when our hearts break and we are hurt and angry because that is what God calls us to do. We keep plowing ahead through discouragement and unanswered prayer knowing someday, in some fashion God will hear our prayer and answer.
We remember and become like Zachariah holding onto our faith, trusting God's promises.
Zachariah as a Christmas character reminded me of the old story about the three stonemasons:
"A man came across three masons who were working at chipping chunks of granite from large blocks. The first seemed unhappy at his job, chipping away and frequently looking at his watch. When the man asked what it was that he was doing, the first mason responded, rather curtly, "I'm hammering this stupid rock, and I can't wait 'til 5 when I can go home."
"A second mason, seemingly more interested in his work, was hammering diligently and when asked what it was that he was doing, answered, "Well, I'm molding this block of rock so that it can be used with others to construct a wall. It's not bad work, but I'll sure be glad when it's done."
"A third mason was hammering at his block fervently, taking time to stand back and admire his work. He chipped off small pieces until he was satisfied that it was the best he could do. When he was questioned about his work he stopped, gazed skyward and proudly proclaimed, "I…am building a cathedral!"
Three men, three different attitudes, all doing the same job.
I think Zachariah was like the third stonemason.
We too are building cathedrals – cathedrals of faith – that we can't see completed yet. We show up, we believe and we go on, waiting and hoping and anticipating in the advents of life. One stone at a time. One step at a time. One prayer at a time.
What is Christmas teaching you this year?