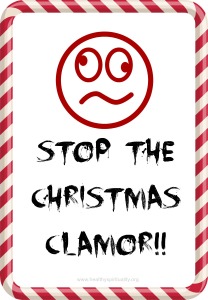 Does December seem noisy for you this year? More Christmas clamor than usual? I am hearing tons of holiday preparation holler over the internet and piles of buy-buy-buy in my mailbox, television and radio. Why do we have to go crazy, getting bigger and bigger, and expanding more more more? Isn't this supposed to be a peaceful preparation time for Christmas?
My inbox tings with another post about Advent. I don't know if you noticed but many wonderful bloggers are writing about Advent this year. Great ideas. Seems like every one has something to say about Advent. Some with wonderful visuals and videos. Others with new music. Many with profound thoughts. All with the goal of opening my heart for this wonderful time of the year. I want to consume them all. Explore all of them.  Yes, I end up being distracted and not tuning in my inner spirit to listen to God but only outwardly to what others are saying.
But like that overstuffed feeling you get after the Thanksgiving feast – I am too full to take in any more.
I am tired already. This year I am experiencing being jolted and not finding the joy. I feel the weight of too much noise, to-do's and wants. I say it is time to stop, simplify and be silent.
How can I best prepare my heart for Christmas? My first step is to recognize and acknowledge all the clamor and pandemonium swirling around me.
I plan not to read everything. I will follow one and only one Advent devotion. I will choose not to do it all and be a picky participant of my preparation. I will be intentional about protecting my quiet time with the Lord. I will do the best I have with the time I've got and let go of the guilt, worry and trying to decorate, cook and party like the neighbors.
Note to self: This season is not about me and my ego anyway – It's about Christ.
I am letting go of Christmas clamor.
Shhhh! I'm listening for God's whisper.
Hush! I am lingering by the manger.
Watch! I am seeking God's surprising appearance in the edges of my life.
Mmmmmm! I am tasting peace and quiet stillness.
Ahhh, I am discovering hope and rekindling joy.
Finally! I am being absorbed by Advent.
How is your Advent season coming?