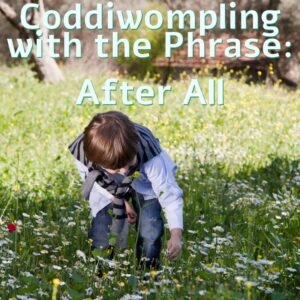 After all is a phrase that includes my word of the year. All is my word of the year and so when I see, hear, noticed this word I look deeper with eyes of my heart. Is there a lesson there? Is this a new way of seeing my word?  What does this phrase, setting, or use of my word stir in my spirit?
So I hold up this phrase now – listening, leaning into its meaning, what does it mean to my deep hungering for All?
I am coddiwompling with this phrase. Isn't that a great word? Coddiwomple means to travel in a purposeful manner towards a vague destination. These words have become my companion as I look for its meaning but not sure where I will end up.  I am exploring my soul, after all.
Etiology of After All
First I take this phrase into the world of the dictionary.
After All is used "for saying that something is true despite what was said or planned before." Or to add information as a way of verifying what we said. I have also seen it used in this manner: despite everything, nevertheless.
According to the American Heritage Dictionary of Idioms, the first written recording of this phrase was in 1560. There is no reference, however, to who wrote it.  We do know that Aesop, a Greek slave (ca. 620-564 BC), wrote the phrase as the moral of his fable The Tortoise and the Hare, though it wouldn't have been in English.
Music
At first I began singing: "It's a Small World after all." Sorry if this tune gets stuck in your head now. I know it is a powerful earworm.
It's a world of laughter
A world of tears
It's a world of hopesAnd a world of fears
There's so much that we share
That it's time we're aware
It's a small world after all
… It's a small world after all
It's a small world after all
It's a small world after all
It's a small, small world.
I listened to several more Christian songs with the lyrics or title of the phrase.  Here is my favorite  pick:
Scripture
And lastly what Bible verses jump out to me? Here are a couple:
Do for God what you said you'd do— he is, after all, your God.   Psalm 76: 11-12 The Message
So don't be embarrassed to speak up for our Master or for me, his prisoner. Take your share of suffering for the Message along with the rest of us. We can only keep on going, after all, by the power of God, who first saved us and then called us to this holy work. 2 Timothy 1: 8-10 The Message.
What's next, after all?
After all is a phrase that will continue to accompany me this year. I go on a 4-day silent retreat next week and plan to pray this phrase, journal about it, hold it up into God's light for deepening lessons.
After all, God is my all in all, my all, my always in all ways.
Is there a phrase you have noticed lately, deepening your relationship with God or related to your word of the year? After all God is always will us, willing to fill our hearts with his lessons and love.