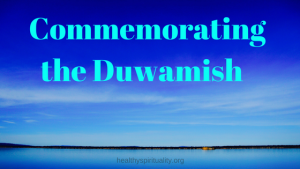 Ever hear of the Duwamish?  I hadn't and learned some interesting facts about these Native Americans.
My church lists the various "commemorations" for the upcoming week on the back of the bulletin. I noticed that tomorrow, June 7, the commemoration of Seattle, Chief of the Duwamish Confederacy died in 1866.
The church explains commemoration as this:
When we are baptized, we are baptized into the body of Christ. We understand this body to be the communion of saints, a diverse witness of men and women across time and space.  
Throughout its history, the church has sought to lift up Christians who have been unique, exemplary people of faith.  
As we remember such Christians, we remember them in the context of remembering Christ. It is not that these people are perfect, as we are all both saint and sinner. Yet their lives point to how God's "extraordinary grace (works) in ordinary people." Our faith in God working in them can be a reminder of God's grace working in all of our lives."
Who are the Duwamish?
The Duwamish were the first people, the Native Americans, around what we know as Seattle, Washington. Seattle derives its name from one of the best known of their leaders.
According to the website, Duwamish Tribe, where you can learn much about these people:
""Duwamish" is the Anglo-Europeanized word which meant "people of the inside". This was referencing where the people lived, in the interior on the Black and Cedar rivers. There were distinct groups of people living in and around the Puget Sound area. The Inside People, Saltwater People, River People, and Lake People. Although these groups of people shared a single language, other parts of their cultures remained distinct to them such as particular foods and canoe styles. Once traders and settlers became common place, these groups or bands came together and called themselves Duwamish."
I found their tradition of potlatches very interesting.
"Potlatches are one of the traditional ways of practicing the power of giving. They bind inter-tribal communities as one. Potlatches raise the awareness of our heritage and honor the poor, the elderly, the children, the leaders and all of our loved ones. They help us make personal, family and tribal decisions and practices public. This is how in our communities we make such things as names, marriages, birthdays and songs real or 'legal'. Potlatches give us the opportunity to practice our spiritual beliefs, share food and singing and dancing ancestral songs, thereby reestablishing our connection with our past and our future."
All of our present communities could learn much from this practice.
In their language, there is no word for "love." Love was learned through acts of being kind and generous. They also passed down stories of love through their music.
Chief Seattle of the Duwamish Tribe
Chief Seattle is perhaps the most known leader from the Duwamish. His name is actually Si'ahl and he made the extraordinary effort to welcome and live peaceably with white settlers as they arrived in this new country. He offered guides, transportation, and even labor in building their camps.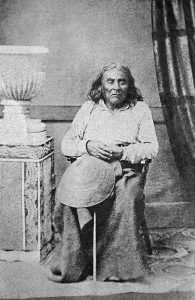 Seattle converted to Christianity in 1848 with the help of French missionaries and adopted the baptismal name of Noah. It is said that he began within his tribe the practice of communal prayers morning and evening, a practice continued after his death.
He was also known by the nickname of "Le Gros", which means "The Big One" due to his height and towering presence. Legend tells that when he addressed his tribe, his voice was so loud that it could be heard from a distance of 3 miles.
Unfortunately, as our dark history has revealed our poor treatment of all Native Americans and we didn't treat this tribe very kindly, either. Ironic, isn't it?  Who best exemplars living as a Christian?
Seattle was a much-respected leader, known for his wisdom and commitment to the environment and family. He is often quoted today by environmentalists from a speech attributed to him. The actual content of this speech is uncertain and though may represent what he said and believed.
There are some wonderful quotes attributed to Seattle, but many probably are not original:
Man does not weave this web of life. He is merely a strand of it. Whatever he does to the web, he does to himself.

There is no death, only a change of worlds.
The whites, too, shall pass – perhaps sooner than other tribes. Continue to contaminate your own bed, and you might suffocate in your own waste.
Getting to Know our History and Other Cultures
I am grateful we are living in a time our rich diversity is being recognized. I love hearing the stories that were left out of the history books I read in school. Stories about strong women and men who were inventive, courageous, and influential. The recent movie, Hidden Figures, is an example of this trend.
We do need to hear their stories. We can learn from their experience. We can honor their wisdom. We can commemorate their lives and contributions.
Let's intensify our stories from incomplete to incredible with the addition of those invisible.
What new culture or story have you learned lately?