I am NOT a winter person. I dislike winter so much I rank it about ten on the list of four seasons. But I do know God sends us lessons in all experiences if only we are open to hold them for a while in our hands and hearts. What is winter showing me this year? "Contemplating Winter" will be the focus on my blog posts on Tuesday in January. Come and ponder this season with me.
"Hear! hear!" screamed the jay from a neighboring tree, where I had heard a tittering for some time, "winter has a concentrated and nutty kernel, if you know where to look for it." 
 ~Henry David Thoreau, 28 November 1858 journal entry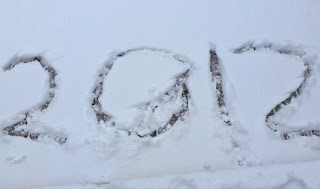 The scene outside my window today fits this theme of Contemplating Winter perfectly. I think God in His good humor knew to send wintry weather for me to set the mood as I write. In Ohio today it is 27 degrees, windy, cloudy, and snowy.
I am a warm weather person who loves the sunshine and higher temperatures. Winter shrouds my spirit and slows down my soul. Yet I felt God's invitation to see winter with new eyes this year and listen to His lessons.
Photograph  from Snow Crystal website. 
"Have you entered into the treasury of the snow." Job 38:22 (NKJV)
To be honest, I have not entered the treasury of the snow to ponder its value. So here is what I have been discovering in God's cache of wintry lessons.
Would you believe scientists estimate that around a septillion — that's a 1 with 24 zeros — snowflakes fall every year? And no two are alike.
That certainly shows the immeasurably depth of God's creative genius, doesn't it?
The Snowflake – Winter's Secret Beauty is a fascinating book by Kenneth Libbrecht, an expert on these lacy ice crystals. Here are some tidbits from his book:
·

     
"
In my youth, I usually ignored how extraordinary it (snow) is, that nature somehow manages to craft these miniature ice masterpieces right out of thin air."
·

     
Snow crystals grow six primary branches each supporting more side branches. Contrary to our winter sweaters and art teachers, there are no eight-sided snowflakes.
·

     
You are a part of every snowflake: Snowflakes begin with water vapor in the air.  Evaporation from oceans, lakes, and rivers puts water vapor into the air, as does transpiration from plants. Every time you exhale, put water vapor into the air – contributing to the ingredients of snowflakes. 
·

     
Each snowfall provides a unique winter art exhibit.
·

     
Though they look simple each flake is a complex and symmetrical (though rarely perfectly symmetrical) ice crystal.
My lessons?
I am amazed at the vast and unlimited imagination of God. If He takes such care in carving each ice crystal in such unique ways, how much more He must care for the formation of His children.
I am reminded that too often I see only the whole – the messy end product heaped at the entrance of my driveway, forgetting how each individual contributes to the whole. Each of us is as important to the mass of all mankind. And even though we may feel one person can't make a difference, working together we can make an impact.
Individual snowflakes are lovely and fascinating, yet none of them are perfect. I can appreciate and learn from the flawed beauty.
God asked Job if he "entered the treasury of snow?" I think every time I watch snow fall this year I will do so with more gratitude for the attention to detail God gives to our world and to us.
Call me 'flakey" if you want, but knowing a little more about snowflakes has given me a new perspective on winter and a fresh way to know God.
What is God teaching you this winter?