"Or imagine a woman who has ten coins and loses one.
Won't she light a lamp and scour the house, looking in every nook and cranny until she finds it?
And when she finds it you can be sure she'll call her friends and neighbors: '
Celebrate with me! I found my lost coin!'
Count on it—that's the kind of party God's angels throw every time one lost soul turns to God."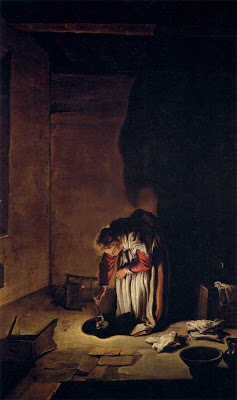 Parties in heaven, Lord? You say, count on it.
Celebrations? Joy? Divine delight?
I often wonder what brings you happiness, Lord.
One event certainly is when the lost is found.
And what is my role? How can I bring you joy?
The woman in this parable first lit her lamp. 
   Cleanse the grime from my heart, Lord so your light shines brightly.
Then she scoured throughout her world, looking in every corner. She paid attention to every detail. She didn't give up.
     Give me strength to persevere, Lord, eyes to see clearly and the desire to go beyond what I can now see.
And she shared her victory with others.
    Give me a heart for others, Lord. When I am tired from searching and dirty from working, help me not forget that sharing my joy multiples when others also rejoice.
I count on you Lord to help me reflect your loving light so all lost can be found and celebrated both on earth and in heaven.
And you reply, Count on it!