Mary DeMuth's new book is called
Everything: What you give and what you gain to become like Jesus
and is scheduled for release October 16. You can
preorder it here.
I am blessed to be part of Mary's launch team for this wonderful book and have an early copy to study and enjoy. Over the next few Thursdays, I will be sharing a quote from the book and some thoughts that her words have stirred within my heart. This book is wonderful, full of wisdom and stories, and will help you discover the freedom in surrendering
everything
to Jesus.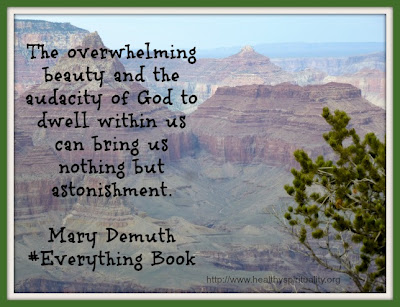 Once a month six of us gather in a circle for group spiritual direction. Each of us takes a turn sharing where and how God has been moving in our lives. We listen intensely and intentionally in silence to each story, then after prayer share a simple response, hopefully instilled with the Holy Spirit.
Often I have to peer deep within me and struggle to find the words to describe my experiences with God. Last month I told them that since my June retreat I have felt "small, fragile, lost in a loving grandeur."
"Small, fragile, lost in a loving grandeur."
Mary DeMuth's upcoming new book, Everything, first chapter is titled "Cultivate the Discipline of Astonishment."

 

The title itself stopped me. Consider how astonishing God is. That a Being so omnipresence, immense, and pure love would chose to live with us and within us.
"Small, fragile, lost in a loving grandeur."
Astonishmentdescribes my summer experience with God.
                        

And to be honest, a bit confusing and                unbelievable.
When we pause and realize

Who He Is

and

who we are, our only reaction is head shaking, humbling astonishment.
I try to define God, squeezed Him into a containable box, forgetting how big He really is. I can only bow as his servant and melt in His forgiving embrace like a timid child. I am dazed and speechless when He blesses me with a glimpse of his majesty and splendor. No wonder I feel small, vulnerable, and fragile in His magnificent presence.
"Christ was fully human but paradoxically was also fully God, which made Him wildly unpredictable and downright strange… God as other is untamable, unmanageable and unpredictable." Mary DeMuth
Sometimes my God experiences take my breath away like a bouncy uncontrollable roller coaster ride. After all, He is God!
Dear wild, unpredictable, and astonishing Lord, can I really trust You as I limp blindly on this life's journey?
Quietly I hear only one divine word whispered in my heart:
What is it about God that astonishes you?